I Want It All 2 Book Bundle
$33.98
FREE BONUS WITH PURCHASE!!!
(from GwenSmith.net store only)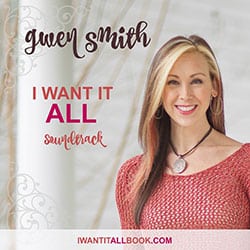 For a limited time get the I Want it All Soundtrack featuring three brand new songs written and performed by Gwen Smith. You'll receive a download link after purchase.
I Want It All 2 Book Bundle. One for you and one for a friend!
YOU AND I WERE BORN FOR GREATNESS! "I WANT IT ALL" SHOWS YOU HOW.
The Bible tells us that God is able to do above and beyond what we can ask for or imagine. So why do we rarely dream big dreams, think big thoughts, or expect God to do great things through us? Gwen Smith, author of I Want It All, urges her readers to want more. "You and I were born for greatness," Smith writes. "Not for the world's greatness, but for eternal greatness: to know God and showcase God."