Graceologie Episode 140: Anne Neilson
---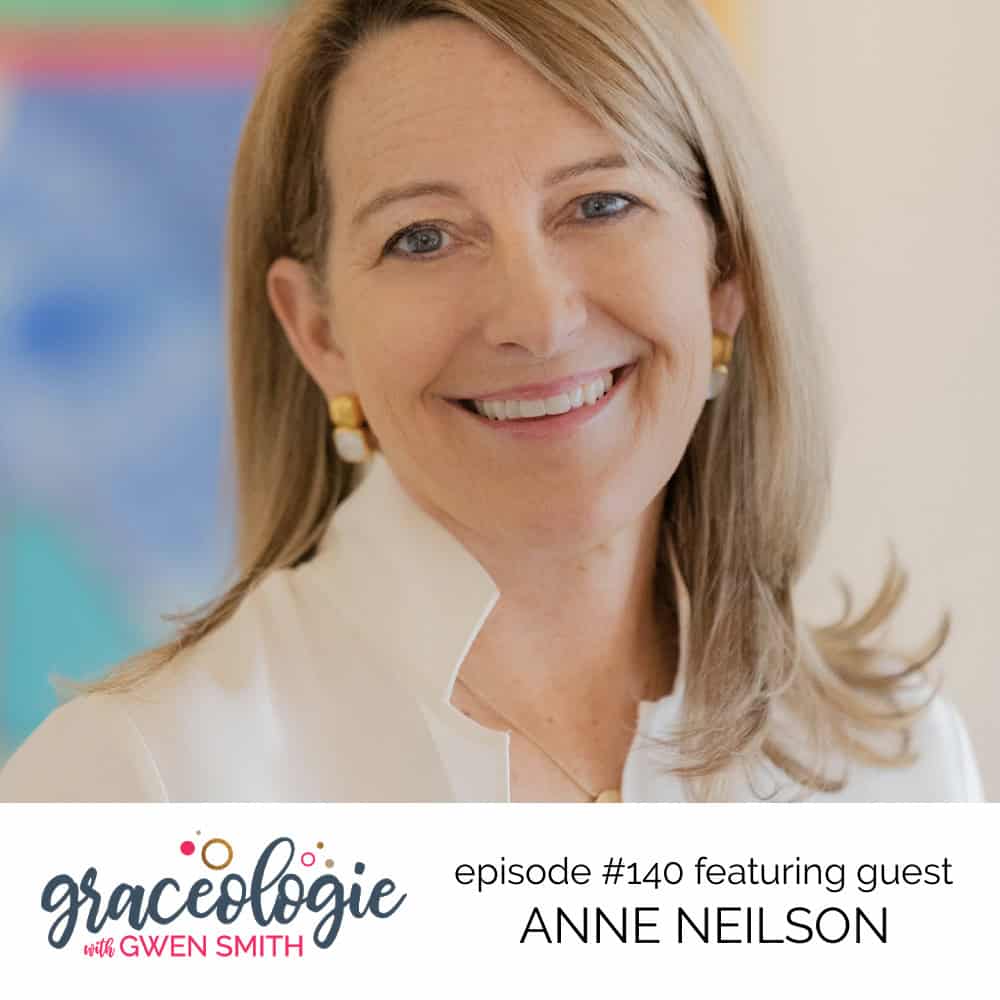 We'd love for you to subscribe on iTunes, and we'd be honored if you'd leave us a review.
OVERVIEW:
What inspires you? Where has God gifted you so others might see you shine HIS glory? Listen to my new Graceologie Podcast episode with author and artist Anne Neilson to hear discussions about these topics and so much more.

QUOTES & NOTES:
Anne's favorite lip gloss: Chantecaille Lip Potion
Graceologie Episode with Wendy Blight is Episode 15. Listen on the website or on Apple Podcast App!
As a fine artist, author, philanthropist, wife, and mother, Anne paints and creates her home products with both passion and purpose, giving back to others by contributing to local, national, and international charitable organizations with proceeds from her art shows, books, and products. Starting as a young artist, even making a D in art class, God brought the art of creating angels back into her life as an adult.
The Lord had whispered to her spirit, "paint and give back." She continued to sell her art and knew this was it. 
The Lord positioned Anne exactly where she was supposed to be. Sometimes it can be a huge ministry or leading a Bible study and sometimes its folding laundry and changing diapers. 
Comparison is the thief of joy. We can not compare to that other person. 
"We've got to surrender with open hands and not cling to something that has not been given to us." Open our hands and open our hearts and truly trust the Lord will go before us and he will make our paths straight. It can shift at times! 
Look behind a beautiful tapestry! It's a bunch of knots. What a mess. Keep surrendering and putting one foot in front of the other and trust the Lord. 
Scripture is God's living word, sharper than any 2 edged sword, and it is our weapon. If you don't have that quiet time in the early morning to plug into the word, set reminders on your phone throughout the day to surrender to him to pray throughout the day! Listen to praise music, worship him while washing dishes, and pray to him in the car.
3:20 Challenge! #320challenge
Grab a note card and write out Ephesians 3:20. Set your alarm for 3:20pm and pray this out loud!
"Now to him who is able to do immeasurably more than all we ask or imagine, according to his power that is at work within us"
Take a picture of the podcast on your phone, post it on your Instagram story and tag us! @gwensmithmusic, @graceologie, and @anneneilsonhome
In this dark time, let's encourage each other. We are all overwhelmed. Depression is on the rise right now. If ever we needed a challenge it's today!
Busy? Try this!
Be
Uniquely
Serving
Yaweh 
    ...by using what is specifically yours. 
Anne's new devotional has us to reflect on our words; words that we speak to our husband, to our children, to our friends. The words that we take in to ourselves and what we believe and let people marinate on these words and be transformed by these words.