Graceologie Episode 119: Deborah Smith Pegues
---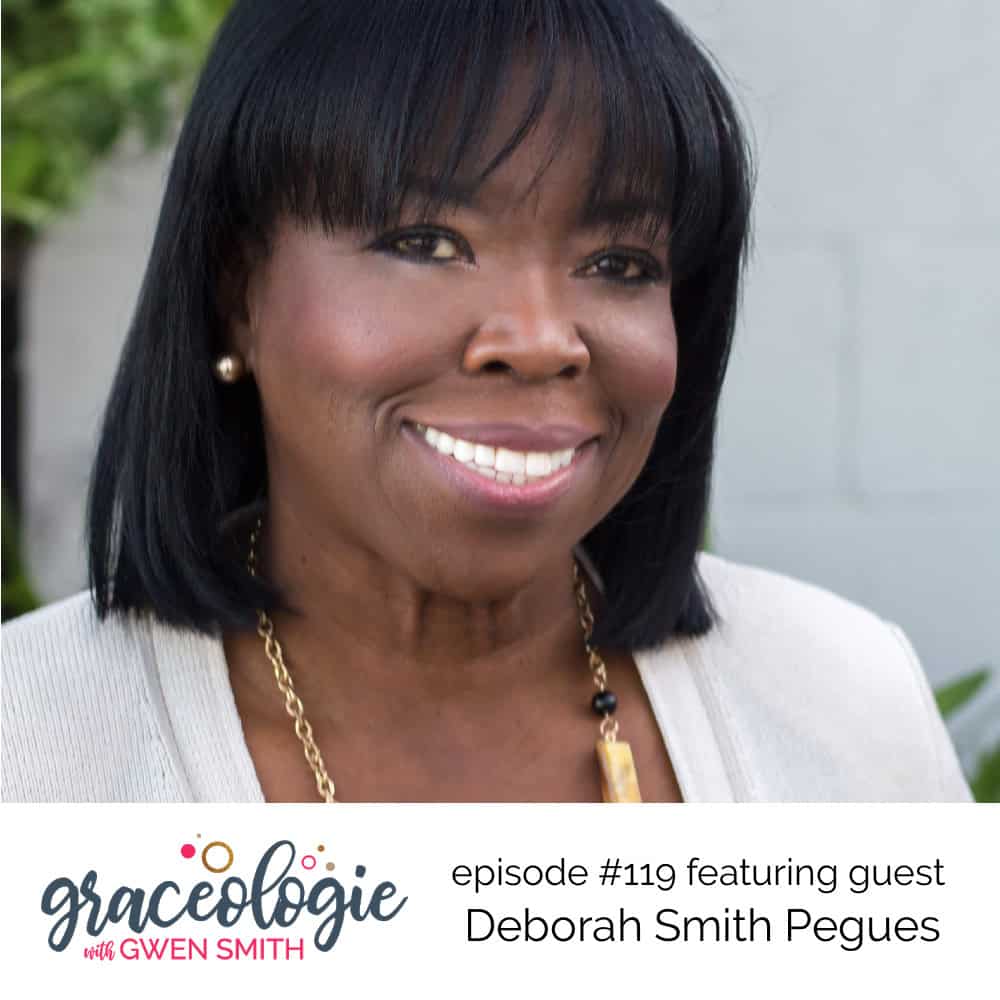 We'd love for you to subscribe on iTunes, and we'd be honored if you'd leave us a review.
OVERVIEW:
What can you do to excel in the impact and influence God has given you? Listen in as I speak with best-selling author and business leader Deborah Smith Pegues.
"Triangulating"- gossip. Contrary to the Bible. If you brother trespasses against you, go and tell him...not another person. Two people, not three.
Matthew 18:15 "If your brother or sister sins, go and point out their fault, just between the two of you. If they listen to you, you have won them over.
Deborah never felt discriminated against but viewed every instance of discrimination as a stepping stone. Just as the Bible says, all things work together for our good. Never a victim. Nobody can thwart God's purpose for our life. 
Isaiah 14:7 For the Lord Almighty has purposed, and who can thwart him? His hand is stretched out, and who can turn it back?
PREF: physically, relationally, emotionally and financially
Once you believe the word of God, you don't go outside of that, and convince me that I'm now a victim and things won't work for my good. 
All behavior comes out of a belief system. 
So when you're feeling anxious or tempted to be anxious, start asking yourself, "what are you believing?" You are believing that God doesn't have the ability or the willingness to help in your situation. This affects your confidence!
Don't walk in self-confidence because that is a worldly concept! Walk in SUPREME CONFIDENCE. And show up like that!
God is here, He knows everything, He is always powerful, and He is with me! 
Watch your thoughts. Don't entertain thoughts of defeat and negativity. Cast down those imaginations. If you are creating a scenario of defeat, cast it!
These are not uncertain times for the Lord. 
Practice loving being uncomfortable. Show up and say: Ok, God, what do you have to say? The more you practice this you gain confidence and take the focus off yourself, expertise and circle of influential people by saying GOD HELP ME!
Don't fool yourselves into thinking you don't have influence. Leadership is influence. Influence is leadership. And we are all leaders and all influencing somebody. 
Qualities that women possess to make them strong leaders:  Collaborative, emotionally savvy, nurturing, commutative, intuitive, and also motivational. 
Read about Abigail in the Bible, 1st Samuel 25
Embrace and manage! Embrace, do it, don't hide it and manage it.
Bad things we do: "You may need to engage in a personal attitude audit."
*Lack of confidence. 2 Corinthians 3:5 "Not that we are sufficient in ourselves to claim anything as coming from us, but our sufficiency is from God"
*We pursue perfection. We don't need to pursue perfection! When you pursue perfectionism, it's an attempt to be blameless. Sometimes you just need to do it enough. It's good enough! Ask yourself, are you trying to be excellent (which is different than perfect) or am I making sure nobody can criticize this? (no fault found in me)
Excellence is taking things above mediocrity. Perfectionism is "that still isn't good enough".
*More executive presence. You don't have to have a "take over" spirit to be comfortable with power, you just know what God has given you to do. Don't speak like a weakling. Stop apologizing for things you don't have control over. If you're in a powerful position, don't apologize, but stay humble and pray. 
Have the mindset to cast all your cares on Him. Let it become a part of your fiber. Let it be your declaration. Declare the word! 
You need to hear yourself declaring the ability of God.
Let your requests be made known unto God. PERIOD. Don't try to figure it out. The  Holy Spirit is here to help you. 
DEBORAH PEGUES' TURKEY CHILI RECIPE
1 MEDIUM BROWN ONION (chopped)
½ OF MEDIUM BELL PEPPER (chopped)
¾ CUP OF RAW MUSHROOM
1 POUND OF GROUND TURKEY OR GROUND BEEF (ALSO MAY SUBSTITUTE MEAT ALTERNATIVES)
1.5 PACKAGES OF "CHILI-O" MIX (FOR EACH POUND OF GROUND TURKEY/GROUND BEEF)
1 8 OZ CAN OF TOMATO SAUCE
1 16 oz CAN OF CHOPPED TOMATOES
1 TABLESPOON LIQUID SMOKE
1 TEASPOON OF SALT
1 TABLESPOONS GROUND CUMIN (this is the secret ingredient)
1 TEASPOON BLACK PEPPER
½ TEASPOON CAYENNE PEPPER (TO YOUR TOLERANCE)
OPTIONAL: 1- 16 OZ CAN OF KIDNEY BEANS
PREPARATION:
SAUTÉ ONIONS, BELL PEPPER AND MUSHROOMS IN 1 TABLESPOON OF COOKING OIL
THOROUGHLY MIX TURKEY, LIQUID SMOKE, SALT, GROUND CUMIN, BLACK PEPPER, CAYENNE PEPPER TOGETHER.  DROP INTO HOT SKILLET WITH THE COOKING OIL.  ADD THE ONIONS, BELL PEPPER, AND MUSHROOMS AND ALLOW THE MIXTURE TO COOK WITH THE MEAT UNTIL THE MEAT IS NO LONGER PINK.
ADD THE TOMATO SAUCE, CANNED TOMATOES, AND COOKED BEANS, AND 16 OZ OF WATER.  ALLOW TO SIMMER AT LEAST 15 MINUTES. IF MORE THICKNESS IS DESIRED, MIX 1 TABLESPOON OF FLOUR TO 1/3 CUP OF WATER AND SLOWLY STIR INTO THE MIXTURE.
SERVE WITH WHATEVER YOU LIKE… (MEXICAN CHIPS, CORNBREAD, CRACKERS, RICE, ETC.