Graceologie Episode 136: Anne Graham Lotz
---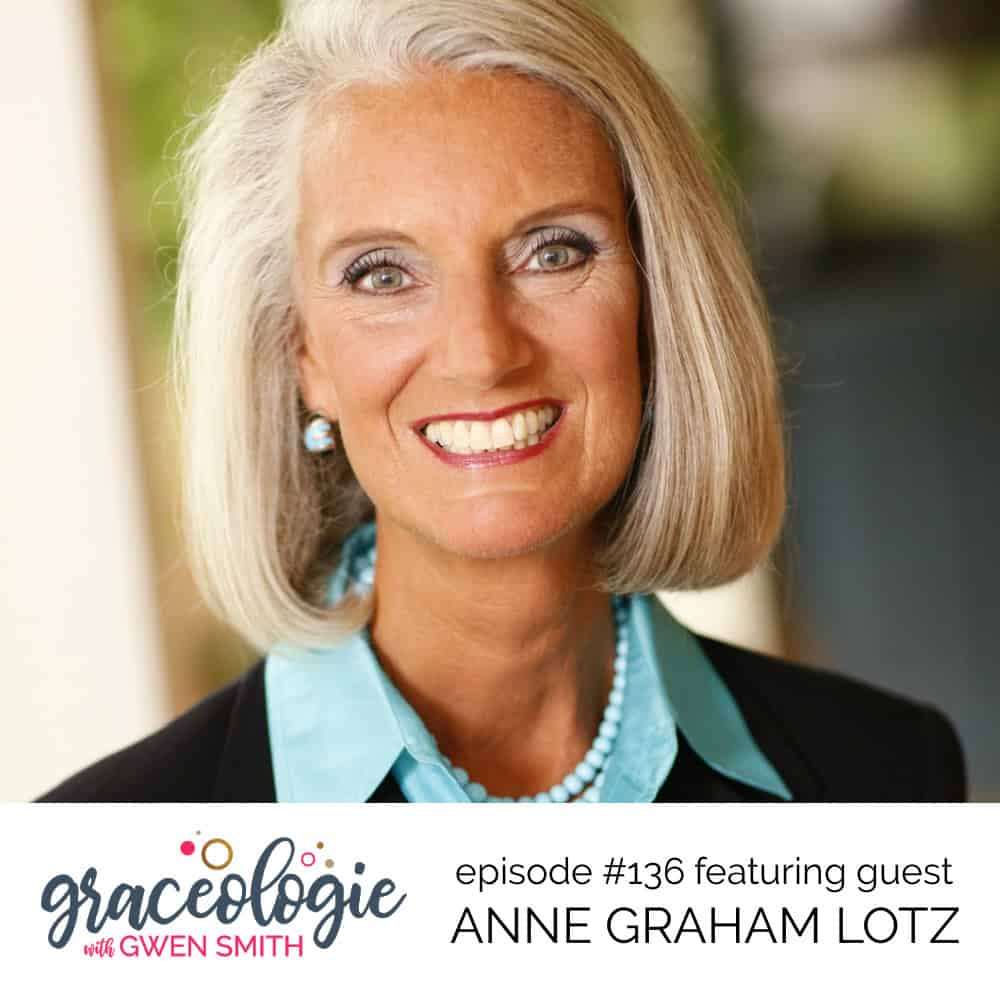 We'd love for you to subscribe on iTunes, and we'd be honored if you'd leave us a review.
OVERVIEW:
Why is it that as soon as we bow our heads to pray, we start thinking of other things we need to do? How do we make time to pray in the middle of our busy lives? And how do we know what to say and how to say it?
Anne Graham Lotz and I discuss these things and more on this episode, so if you ever struggle in prayer, this episode will really help.
QUOTES & NOTES:
Afraid to get out of the boat? 
The fear is the risk of failure. Peter felt fear when he began to sink in the waves. When you follow the Lord like that in a life of faith, you are risking failure and you get out of your comfort zone. Comfortable is when you know you can handle something. Stepping out of in that into something you know you can't really handle and youre in over your head is when God comes through. 
"My aim in life: I want to know God better today than I did yesterday, better tomorrow than I do today. And I want to be where He is."
I can answer his call and follow him or live my life in a comfortable secure way but it wouldn't be with him. 
He doesn't call you to do something he doesn't equip you for or he's not going to empower you to do. Release yourself to him and abandon yourself to him and see what he can do!
We can easily say "I can't do that!" But God doesn't expect YOU to do it. He says, "I can do it!" He is sufficient. Just follow him.
"At this point you salute and say 'yes sir' or fold up and say 'I"m not cut out for this' and you're no longer a disciple. You can be saved but you are not a follower of Jesus. 
What's the difference between being saved and a follower of Christ?
To be saved is by faith and his grace alone which means that we aren't just saved from hell and not just saved for heaven but we are saved to live an abundant life with fullness of joy, peace and blessing. If you just satisfy yourself by just being saved from hell, then you miss out on this abundant life that comes with following him. You've settled for less. 
"In order to follow him you need to know where he's going and order to know where he's going you have to listen to his voice and in order to hear his voice you need to read your Bible."
The disciples heard Jesus praying, his convo with the Father and that prayer he says, "I'm praying for them." So Jesus is praying for me. And he's praying for you. In this prayer it boils down to 3 things: stay focused on him, faith will be founded on his word (and not our feelings) and that we look forward to a future in Heaven where we will see his glory.
Romans 8:26 "In the same way, the Spirit helps us in our weakness. We do not know what we ought to pray for, but the Spirit himself intercedes for us through wordless groans."
When we pray for what we want, what we hope for and desire, our prayers are very flimsy, it's when we base our prayers on God's word and pray his word back to him, that makes it a powerful prayer. 
FOUR Main elements of building blocks of our prayers:
    1. Worship (focusing in on who God is)
    2. Confession (in the light of who he is we see ourself-a man of unclean lips)
    3. Thanksgiving (thankful for cleansing of sins and blessings)
    4. Intercession (praying for others and yourself)
When you come to the cross and confess your sins and accept Christ as your Savior, all of our sins, past, present and future, are forgiven. We don't have to keep coming back for forgiveness. But we come back to confess our sins to be cleansed so there is no bearer and we have a clean heart. 
God doesn't want us to come to him just to fix things. It's not that you can't just cry out help to Jesus, but don't make it a habit of always giving him a shopping list of what our needs are. 
We've seemed to forsaken the basics of being the church. When was the last time you  shared the gospel with someone?
If my people who are called by my name humble themselves, and pray and seek my face and turn from their wicked ways, then I will hear from heaven and will forgive their sin and heal their land" 2 Chronicles 7:14 
He's talking to US! We compare ourselves to each other so we think we are ok. God compares us to the perfection of his Holy Spirit. We fall short and it's time to repent of our sins and turn away from it so he can heal our land! The healing of America right now depends on God's people getting their act together. 
I think Covid has been God's way to put us on a Sabbath rest all around the world so we can look up and give him attention.