Graceologie Episode 142: Lara Casey
---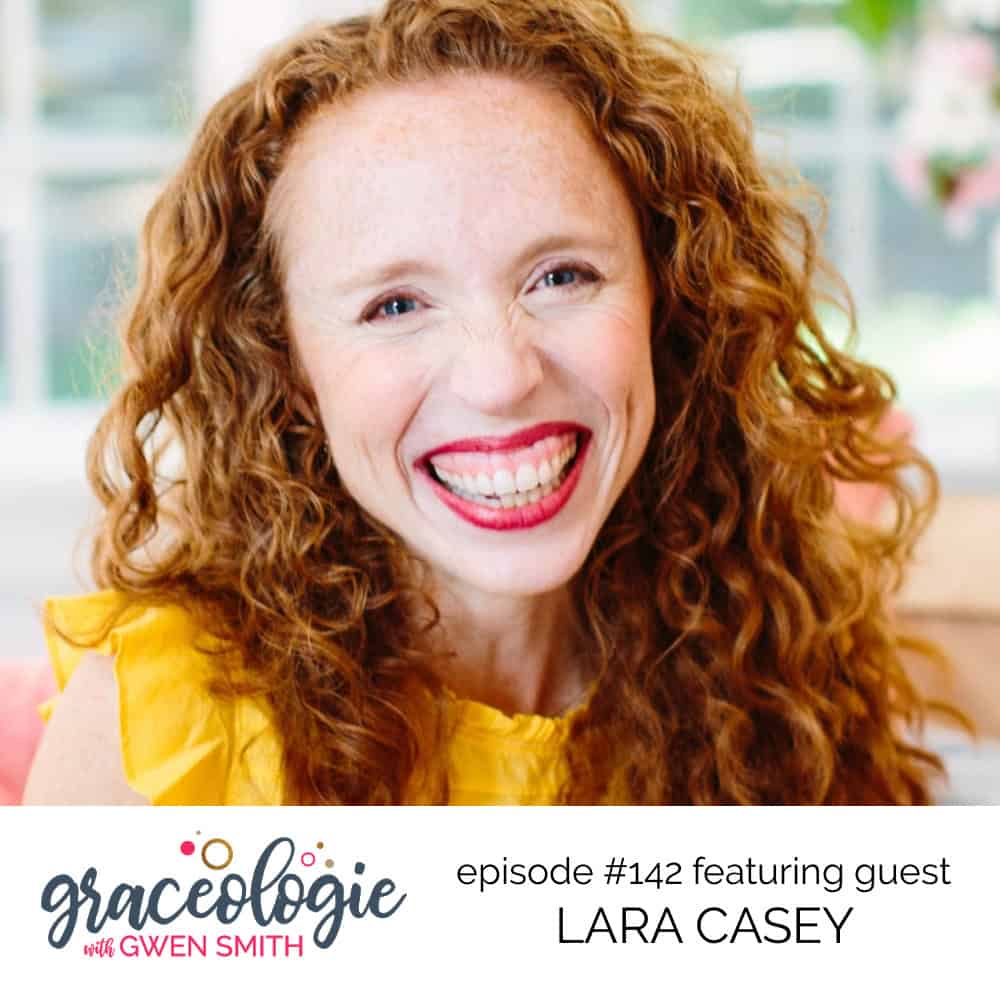 We'd love for you to subscribe on iTunes, and we'd be honored if you'd leave us a review.
OVERVIEW:
Women often feel like they have to have it all together in order to live a meaningful life. Instead they feel inadequate, overwhelmed, and exhausted as they figure out how to do it all. Lara offers this advice: "We can't do it all, and do it well. But, we can choose to cultivate what matters.
Today she shares her story of personal redemption and healing... and talks about how the Lord answered in huge ways when she began praying impossible prayers. We talk about everything from productivity, to progress and mindset. 
If you find yourself needing a fresh reminder that the Creator of the wildly massive universe is also the God of personal redemption, restoration and even God of the impossible, then you're gonna love today's episode.
QUOTES & NOTES:
Following a devastating divorce and a rocky start to her second marriage, Lara turned back to the faith of her youth and began seeking God.
"I've tried everything to make my life better and nothing is working. Maybe I should listen to God." Lara started praying impossible prayers of God putting their marriage back together.
We can't control what other people do but we can hold fast to the Lord ourselves. It doesn't guarantee that we get the results we want but it's always worth the risk, especially if it's in His direction.
God doesn't change things over night but many times he's very present and very much at work and yet the steps are not visible. 
Eventually Lara saw her husband reading his Bible one night. And he ended up being a disciple of Jesus.
So many things that Lara can point to where God was clearly at work but she couldn't see it. But that is what faith is: believing in what you can't yet see. 
CEO of the company: Cultivate What Matters
TWO THINGS:
Good things grow little by little.

And through a lot of good work and obedience.
Break up the old to make room for the new. You don't remove the old stuff from the soil. You use it! God makes that into a rich hummus. 
"All of the old roots of the past, our stories, our heartaches, the places that God has traveled with us on our journey, those are all part of our growing ground right now."
We don't have to be stuck in old rocks of sin, shame or guilt but he uses all of those parts of our stories to grow new things. 
We don't have to be perfect, just have a willing heart and muscle into that soil a little bit. 
2020: None of us would have expected how much our lives would have changed this year. Our brains have been shaken up. They like patterns and habits. And one reason this year has been so uprooting to us is it taking us out of comfort zones. 
So much change to process=brains overloaded.
We have relayed on the Lord more than ever before because we've had to. We truly fight for gratitude in a year like this. 
Goals as we look forward to 2021:
We have been gifted perspective this year. We have been forced to live out the essentials this year of what matters and what doesn't. 
Psalm 90:12 "Teach us to number our days, that we may gain a heart of wisdom."
We have a lot of a lot of unknowns but we can focus on what matters and let go of the rest. 
We can know for sure where we are going in God's view. 
Make a list of the things you will say yes to and what you will say no to in the year ahead. 
God wants us to think big picture for His Kingdom. He doesn't want us to play small when it comes to sharing the Gospel. 
I believe that dreaming is an exercise in faith. 
All progress is imperfect progress. 
What does the Bible say about goal setting?
Jesus himself had goals! He came to the earth with a single goal. He and his disciples had the goal to spread the Gospel. 
Open up the word. Write out the words of scripture and see how it slows your brain down to focus on those words.