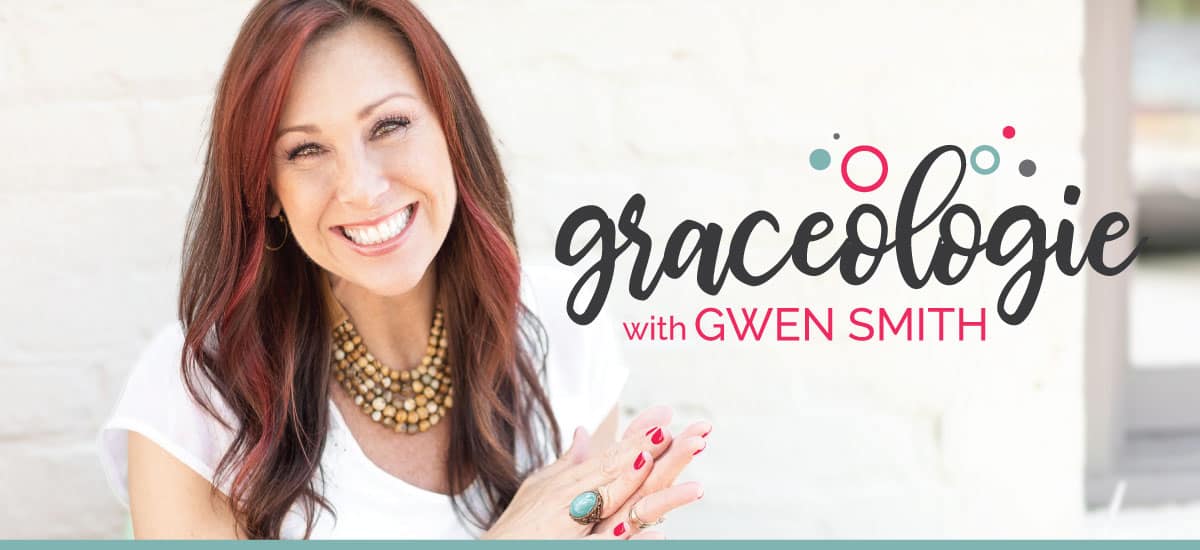 Graceologie Episode 16: Wendy Speake
---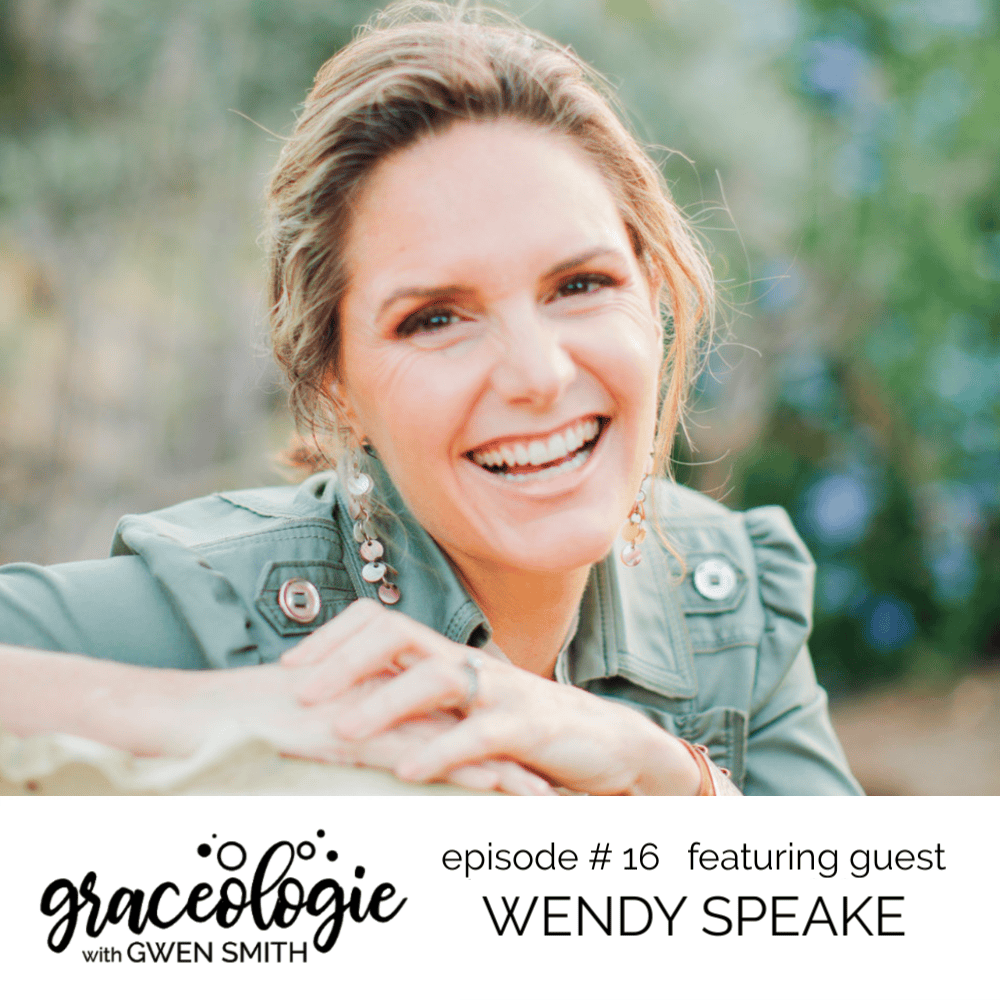 HELPFUL HIGHLIGHTS:
The sacred really is in the secular moments of our lives.
We were not saved just so that we could have the blessed assurance of an eternity with God. We were saved and then we were set apart to be ambassadors of the Savior. We were called to walk with the Light of the world so that we would become the light of the world. We were redeemed so that we could be spokespeople for the Redeemer and invite others to know the one who we know.
Focus on the fruit of God's spirit in your life. We should start at the end of the list of the fruit and that is self-control. If we're blowing up and blowing it with the people that we love most, or just the people cutting us off on the road, we need to stop. We need to stop. God makes it so clear in his Word. If you live by the spirit, you have to keep in step with the spirit.
Take off wrong behavior and put on God's righteousness through His Spirit that's at work within you.
Therefore, since we also have such a large cloud of witnesses surrounding us, let us lay aside every hindrance and the sin that so easily ensnares us. Let us run with endurance the race that lies before us, keeping our eyes on Jesus the source and perfecter of our faith. For the joy that lay before him, he endured the cross, despising the shame, and sat down at the right hand of the throne of God. (Hebrews 12:1-2)
I think that as parents and as wives and as coworkers, we need to recognize I don't have power over that person. The only person that God gave me any control over is myself, which is why the fruit of his spirit in my life is self-control, not others control.
But as long as we think it's others control, then those triggers are triggers. But if we're in control of ourselves, then moms, those triggers in your kids are opportunities to parent. That child doing wrong, that child being selfish, that child having ADD, that child pushing your buttons is really just saying, "Hey, mom. I need some parenting."
But as long as you take it personally and you try to control them, you will be out of control because the only control that God has given you is self-control and really dependency on Christ is God control saying God, I'm not self-controlling myself well. I need you controlling my life and that goes right back to abiding in him, having his word and his presence abide in us, so that we might really naturally truly bear his fruit. But in the meantime, OBEY.
If you know you're being unkind, if you know you're saying unkind things to your husband, stop. You got to do the hard work of taking off that behavior and putting on a more gentle and a more loving and a more respectful response and the same is true with our kids and our friends and our coworkers and the person in line or the person who posts something about a different political view on Facebook and you've just got to let them have it. No, you don't. No, you don't. So many triggers. There are so many triggers.
Figure out what you mean to say before you say something mean.
3 STEPS to Help Respond to Triggers:
1 SLOW DOWN
2 SIT DOWN
3 WRITE DOWN a better response.
Make a practical plan, writing yourself a script if you need to.
If I function and I say, "Hey, God has made me so deeply feeling, that this is just who I am, so deal." Then I won't become more like Christ and my children will pay that penalty of it and so will my marriage and so will my relationships.
But if instead I say, "God, you made me this way and there are beautiful, beautiful things that bring you glory and bring blessing to my family because of how you made me. But there are also negative characteristics because of how you made me and I lay those down at your feet. I submit them to you," and I say, "Have your way with me. I would rather look more like the one who created me than the way I was created."
I think oftentimes we lack grace with others. I'm talking about blowing up and saying the wrong things and having too much passion and not enough compassion. I think it's because we don't recognize that when others do wrong – I mean truly sinned against us or against themselves or against God or just our acting – if you have a child, they're just acting their age. I think what's going on is that we don't recognize what sin is.
Sin is an invitation for us to apply the gospel of Jesus Christ. We think that we can have the gospel without doing wrong. We want to. I mean I would like to have a life where I'm not screwing up so much and I want my children to know the love and the nearness and the power of Jesus. But I don't want them to mess up because messing up is inconvenient and it's sad and it's embarrassing. But the reality is if your kids are sinning, they are inviting you to tell them about the one who came to forgive sin. We cannot get forgiveness without sin. We want to. We want our children to say, "Jesus loves me. This is know, for the bible tells me so and I want to invite Jesus into my heart."
We want the story to end there and we want our kids to have a very, very boring, safe testimony. But the reality is we cling to a Savior because we need saving.
So when your children do wrong, when they are – they get caught cussing at school, they get caught cheating on a test, they are being unkind with their brother, they're talking back to you and we respond in anger, we don't need to. Again, we don't need to respond in passion. We can respond with compassion because what they're telling us is, "I need grace and I don't just need your grace, mom. I need the grace of God because I'm sinning."
So we can see all of these wrong behaviors actually as invitations to say, "You know that God that we talk about? You know how we talk about that he died for sin? This is what we're talking about. This behavior is what we're talking about," and we don't need to be so afraid of our kid's sin. We don't need to respond with so much passion. We don't need to respond to the sin in our marriages that way either. We can come humbly and say, "This is grace. This is why we needed the grace of God and this is why we can extend grace to one another. Let's let that grace transform our marriage. Let's let it transform our mothering ladies. Let's let it transform our relationships. Let's not be so scared and let's not be so angry. Let's grab hold of grace and let's extend it."