My daughter plays competitive volleyball and recently began a specialized resistance plyometric workout called Vertimax training. The actual Vertimax equipment looks rather unimpressive. It's a sturdy platform that hosts a complicated series of industrial-sized rubber bands. The results of training with this system, however, are anything but unimpressive. This advanced resistance-training helps to increase vertical jump, strengthen and protect muscles, and accelerate an athlete's reaction time. Everything a volleyball player wants!
But let me tell you, it is hard work.
Kennedy trains under the careful watch of a guide who knows just how much tension to add and to allow on the platform. And she works through a rapid series of reps to the point of fatigue, and sometimes to failure.
The resistance of the bands increases her strength, but not until her muscles are worn down. After fatigue sets in and the muscles break down, healing begins, and she grows stronger as a result.
Just like in life.
Trials and tension can lead to stress or to strength. Often both! Challenges can tear us down, but they also hold the power to build us up. It's important for us to realize that we get to choose our responses when resistance wears us thin.
I want to honor God in both good and bad times. Don't you? I honestly do, but it's not easy. I tend to get upset about the breakdowns and strains I have to deal with. The Bible shows me, however, that if I didn't have any resistance I wouldn't grow.
The beauty of resistance is that it can lead to strength. (If we allow it to.)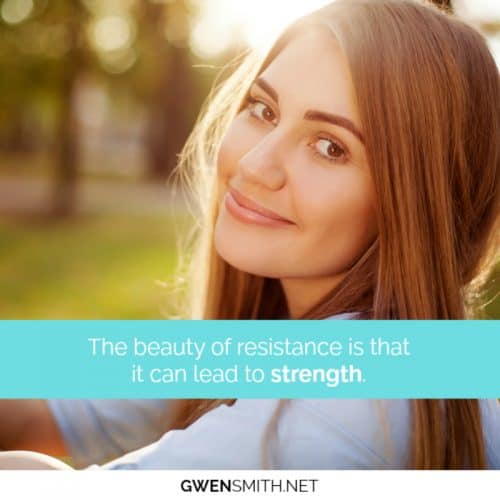 Remember what James said?
Consider it pure joy, my brothers and sisters, whenever you face trials of many kinds, because you know that the testing of your faith produces perseverance. (James 1:2-3)
I read these verses and a part of me want to run the other way. But I want to grow. I want to mature in my faith, to trust God more, to persevere and showcase His power in and through the pressure.
So how does this play out practically?
Well, I want my marriage to grow stronger. Always. Because even though we've been married a long time, Brad and I are two flawed individuals with strong opinions and crazy-different emotions. Those two variables alone set the table for tension, but there are countless sources of strain beyond our shortcomings. (And all the people said: AMEN!)
We know that marriages, and all relationships, are hard work. So for my marriage to be strong – as far as it's up to me – I need to press through times of fatigue in order to move toward the strength I long for when Brad and I hit the tension point. I need to look to God, my Guide, who carefully watches me, knows all about the hurt, and helps me through the resistance.
If I want my marriage to be strong, I can't just be stubborn and do things my way because my ways are flawed and weak. (This applies to all relationships!) The ways of the Lord, however, are perfect and strong. So I look to the Bible to instruct my heart and inform my attitude. She brings him (her husband) good and not evil all the days of her life. (Proverbs 31:12) She opens her mouth with wisdom, and loving instruction is on her tongue. (Proverbs 31:26)
When I'm stressed out by my man, or angry with him (people…it happens), I have to pray for God to give me the grace that my heart lacks and the willingness to forgive. Even in the times when I'm convinced that he's wrong. Even when my feelings are hurt or my ego is bruised. Even when, even when, even when… (And believe me, Brad has plenty of opportunities to do the same with me!)
The Bible assures us, Blessed is the one who perseveres under trial because, having stood the test, that person will receive the crown of life that the Lord has promised to those who love him. (James 1:12)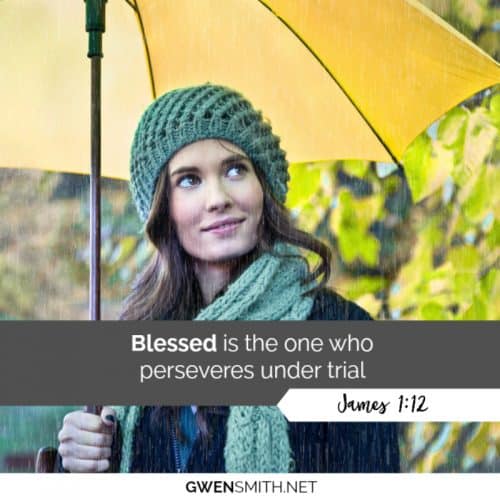 That sounds good to me. I like to know that there is a reward that follows the fatigue.
On the Vertimax platform when the tension bands are removed, an athlete experiences the benefits of the training. Testing brings perseverance. It's a promise.
What resistance are you facing today? Let perseverance finish its work so that you may be mature and complete, not lacking anything. (James 1:4)
Dear Lord,
Forgive me for wanting to find the easy way around the resistance that can be used to strengthen me. Help me to appreciate the value in the strains and struggles I endure. Build my strength today in the fatigue I face and help me to look to You and walk in Your grace.
In Jesus' name, amen.
FOR YOUR REFLECTION and RESPONSE
Read James 1.
JAMES CHALLENGE: Ready to go deeper in the strength of God? Read the entire book/letter of James. Do it today or do it this week. Are you in? Let me know! Leave a comment on my blog wall or on my Facebook page.
As always, my posts are not a monologue. We're a community. Let's talk about where you are when it comes to this topic of trials. I love hearing from you and watching the page light up as you encourage one another.
Warmest Blessings,
GWEN
---

Are you a Speaker or Writer?
Do you ever feel like you spend most of your days ticking off tasks that are urgent, but not that important? When the week is over you think: 'What just happened? What did I get done that was important?'
As a leader and communicator, I know how important it is to not just work in my business but work on my business. This is hard to do when your kids need help with homework, house chores are screaming at you, and the to-do list grows into a scary monster.
Most people don't achieve their dreams because they let the urgent things run their life.
For 6 months, I'm offering an exclusive online coaching group to 12 writers or speakers. This next cohort will run from July through December of 2018.
I feel strongly about helping you become who God made you to be, and I'm partnering with a network called "Tailored Coach" where each group is 100% online, with live video coaching calls and collaboration with peers each month, for 6 months.
Specifically this coaching group will focus on writers and speakers, helping them communicate, lead, promote, and execute a plan to achieve success.
If you find yourself as a busy writer or speaker, that can't seem to get out of the weekly grind, this is for you.
Here's the link to the coaching page, where 6 sessions are laid out to develop you over 6 months. I hope you apply today before it fills up.
GWEN
https://www.tailored.coach/gwensmith