**After an overwhelmingly positive response, our Two Day Giveaway is over now!
Warmest Blessings in Christ, Gwen**
Well, this is the big week! Our second Girlfriends in God book, Knowing God by Name, released and I couldn't be more excited!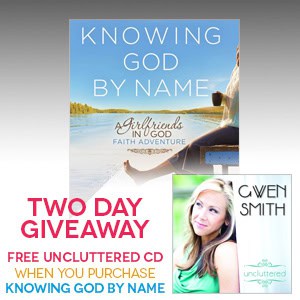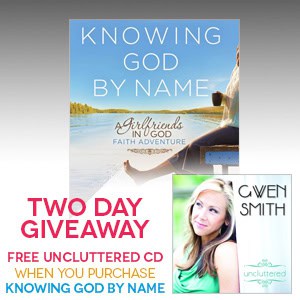 A TWO DAY GIVEAWAY: Get a Free Uncluttered CD when you purchase the new Girlfriends in God book, Knowing God by Name. 
This is a book about a topic that has been on my heart for years: How can I get to know God more intimately? What my co-authors/ministry partners, Sharon Jaynes, Mary Southerland and I have been learning as we explored the answers to this question has changed our lives – and we hope it does the same for you.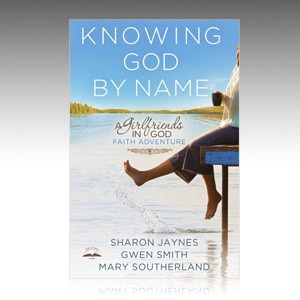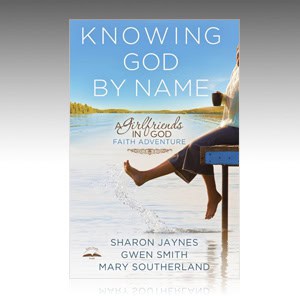 Everyone wants to know God more; no matter whether a person has been walking with the Lord for decades or whether they are searching to figure out how God might fit into her life. And if we aren't growing toward God – increasing in our intimacy with Him – how will we ever experience life as we were meant to live it… to the full?
God has revealed his names and attributes beautifully – perfectly – in His Word, the Bible. When we choose to learn more about these names and attributes, we grow more in awe of – more in love with – more in step with the God of the universe who created us for this very purpose.
WHAT THIS BOOK TEACHES & WHY YOU SHOULD GET IT NOW
Knowing God by Name will help you:
Understand more about who God is and how to relate to Him. At times we all feel distant and confused about God. The 40 names and attributes featured in this book shed a fresh light on who God is and lead us to His heart in intimate ways.
Apply Scriptural truths to your unique circumstances. We can all get lost in our situations instead of God's strength. As you come to know God by name, you'll draw closer to God and learn to trust Him more fully.
Connect with other women. C'mon, now! That's what I'm talking about! We need each other so much! Responsive and Biblical questions at the end of each week are perfect for further prayer and dialogue between both you and God – and between you and your girlfriends, prayer partners or a small group.
Grow closer to the One who knows you by name. We all long to be known and loved, but what if our response to God's names and attributes were the key to experiencing our deepest longings
If you are ready to get your copy now – then click here to order.
Now, let's have some girlfriend talk…
I know it's a big deal to only give you two days for a super special like this. We often take our time and linger over purchases before buying. Totally get that.
But if you're reading this, then we have some type of relationship. Maybe you've been reading Girlfriends in God devotions for years, or maybe you listen to my music or met me at an event or conference somewhere… or maybe a friend recommended it to you.
Either way, I'm asking you to take a chance. To trust that a $14.99 book will be worth your time and investment. (To be fair, the book has already been read and recommended by some of the most reputable and influential Christian women of our time: Lisa Harper, Liz Curtis Higgs, Carol Kent, Kasey Van Norman, Rhonda Rhea & Micca Campbell – so it's not that much of a risk.) Their reviews are featured on our Knowing God by Name book page, and on the book itself.
Launch week is a very big deal for an author and can make or break a book, depending on how much attention it gets. If this topic sounds appealing to you, all I'm asking is for you to pick up a copy over the next week and tell me what you think.
If you hate the book, send me an email and I'll buy it back from you for whatever you paid. Seriously.
And now some an extra fun rewards…
Buy your copy of the book between August 8-10, 2013 and get three bonuses for free:
a copy of my Uncluttered CD
5 of my favorite Girlfriends In God devotions
3 surprise song bonuses in electronic form
To access the 5 devotions and extra song bonuses, buy the book and email your receipt to info at gwensmith.net. (You can even buy the book from another retailer and I will still honor these extra digital bonuses!!) 
And don't forget to tell your friends!
To grab your copy of Knowing God by Name from another retailer, click any of the links below:
Amazon / Barnes & Noble / Berean / Books a Million / Cokesbury / Christian Book Distributors / Parable / Mardel

What does growing in intimacy with God look like for you today? Share a quick thought in the comments today (I'd love to hear from you).
Get My Free Newsletter (Plus Another Freebie!)
When you subscribe to the newsletter, you will receive a free song download of my new song Quiet Me !