Several years ago I bought a box of Cheerios that came with a free children's book. The little book that came with the O's had a darling and oh-so-prickly little varmint on the front cover. The title? How Do You Hug a Porcupine?
The story is about a young boy who witnessed a bunch of his friends hugging a myriad of animals. They hugged dogs, bunnies, cats, horses, cows… you get the picture… all cuddly and relatively safe.
All the while, the young boy was wondering how he could hug a porcupine. The main character tried several creative ways to affectionately approach his quilled friend. He didn't want to get hurt, so at first he donned some baseball catcher's gear, then he tried reaching from far away while a box protected his body, and finally he attempted to tame the spikes with marshmallows. By the end of the book, he concluded that he needed to move slowly and that the best way to hug a porcupine is this: CAREFULLY.
Cute story. Simple ending. Hug porcupines carefully. Sure. I just wish that hugging the porcupines in my life could be such a simple and cute adventure.
We all have them, you know… porcupines: struggles, trials, pains, mountains, call them what you will, they exist and they are prickly. And strangely, oh so strangely, the Bible tells us that we are supposed to hug them.
Seriously?
"Consider it pure joy, my brothers and sisters, whenever you face trials of many kinds, because you know that the testing of your faith produces perseverance. Let perseverance finish its work so that you may be mature and complete, not lacking anything." (James 1:2-4, NIV)
The rewards sound good, don't they? Who doesn't want to persevere… to be mature and complete, not lacking anything – not deficient in any way?
Now, let me just go ahead and ask the questions that we all wonder. How in the world are we supposed to think of tests and challenges as gifts – as pure joy? I have read this charge a million times, yet the tension of it still often grinds me like fingernails on a chalkboard. I mean, c'mon! It's upside down and inside out to consider it pure joy when we suffer and go through hard things.
When I'm going through a tough time my natural response is to complain or feel sorry for myself – not to say, "Thanks for the gift, Lord! Oh, what joy!" And if this is a good thing for me – to embrace my struggles – then why is there such a disconnect between my warm longings and this cold calling? Can we even trust a God that would call for such a bizarre paradox?
I look around at the groanings of mankind and wonder, can God truly be loving and allow little girls to be molested by loved ones… porn-addicted husbands to walk out or shut down… natural disasters to wreaking havoc on civilization as they wipe out beating hearts by the thousands… millions of babies to be legally slaughtered in the name of women's rights?
The simpleton answer is: Yes. He can.
But what He allows – His sovereignty – is far from simple. Far from neat. Far from understandable. So how is it that the Bible teaches we have to count the trials of our lives as blessings?
I see you squirming. I don't like this conversation, Gwen! Why can't we just talk about the comfortable side of Christianity like love, grace, peace, unity, potluck dinners, unspoken prayer requests, and heaven? Where's the easy button?
Patsy Clairmont said it this way, ""Hope doesn't announce that life is safe, therefore, we will be; instead, it whispers that Christ is our safety in the midst of harsh reality."
While a life purposed for Christ is chock full of blessings – many of which are completely incredible and comfortable – each surrendered life is also filled with struggles that God uses to help us become mature and complete. The Bible doesn't sugar coat this. It says that we are promised challenges and trials… that when we choose to follow Christ some things will actually get worse, become more difficult – that the world is fallen – broken – and that it will hate us as it hated Christ… that we have to take up our crosses and follow Him. Love as He loves. Be holy as He is holy. Forgive as He forgives. Endure as He endures.
We must be willing to search for the blessings in the blisterings as well as in the bliss. (A TWEETABLE!)
The good news is that there are always blessings in the blisterings. We just need to look for them. When our eyes are open to see the beauty in our broken, blessings flow… even in the bloodiest of blisters. Because trials are trials with all their pain and ache, but hidden in the dark corner of every challenge is an intimate, intensely personal invitation for us to meet face to face – heart to heart – with our Comforter, our Head-lifter, our Healer, our Tear-catcher, our Provider, our Counselor, our Refuge, our LORD.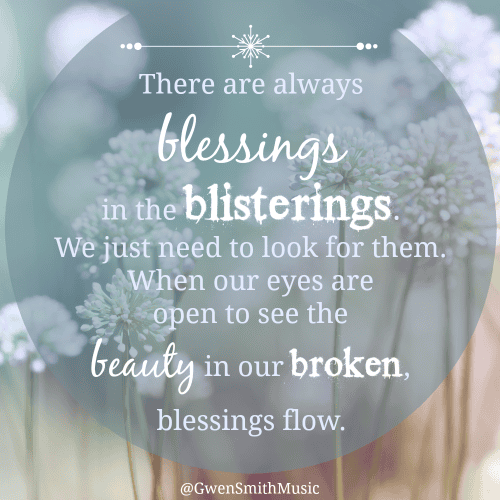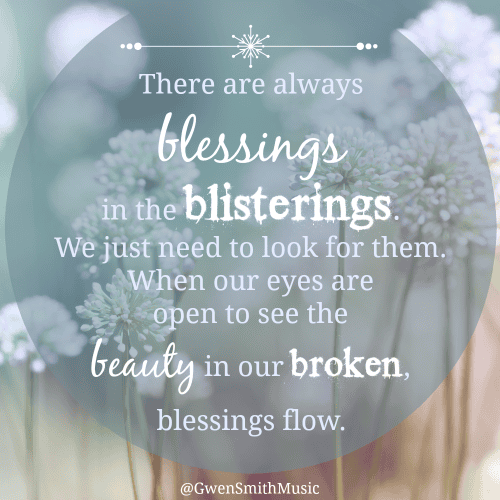 Dear Lord,
Thank You for being my safety. When my days are full of trials and pain, I know that I can trust You to provide the wisdom, provision, comfort, and grace I need to endure. Help me to hug my porcupines today and to see that each challenge gives me an opportunity to turn my eyes toward Yours and to know You more intimately. In Jesus' name, amen.
FOR YOUR REFLECTION and RESPONSE
What porcupine are you struggling to hug? Need a bit more encouragement? I've posted a few songs below that will help equip you and inspire you toward God's heart and strength. Click to listen to them, then CLICK HERE to POST a PORCUPINE (prayer need) as we take this conversation deeper.
SONGS OF ENCOURAGEMENT
Thanks for doing life with me!
Gwen