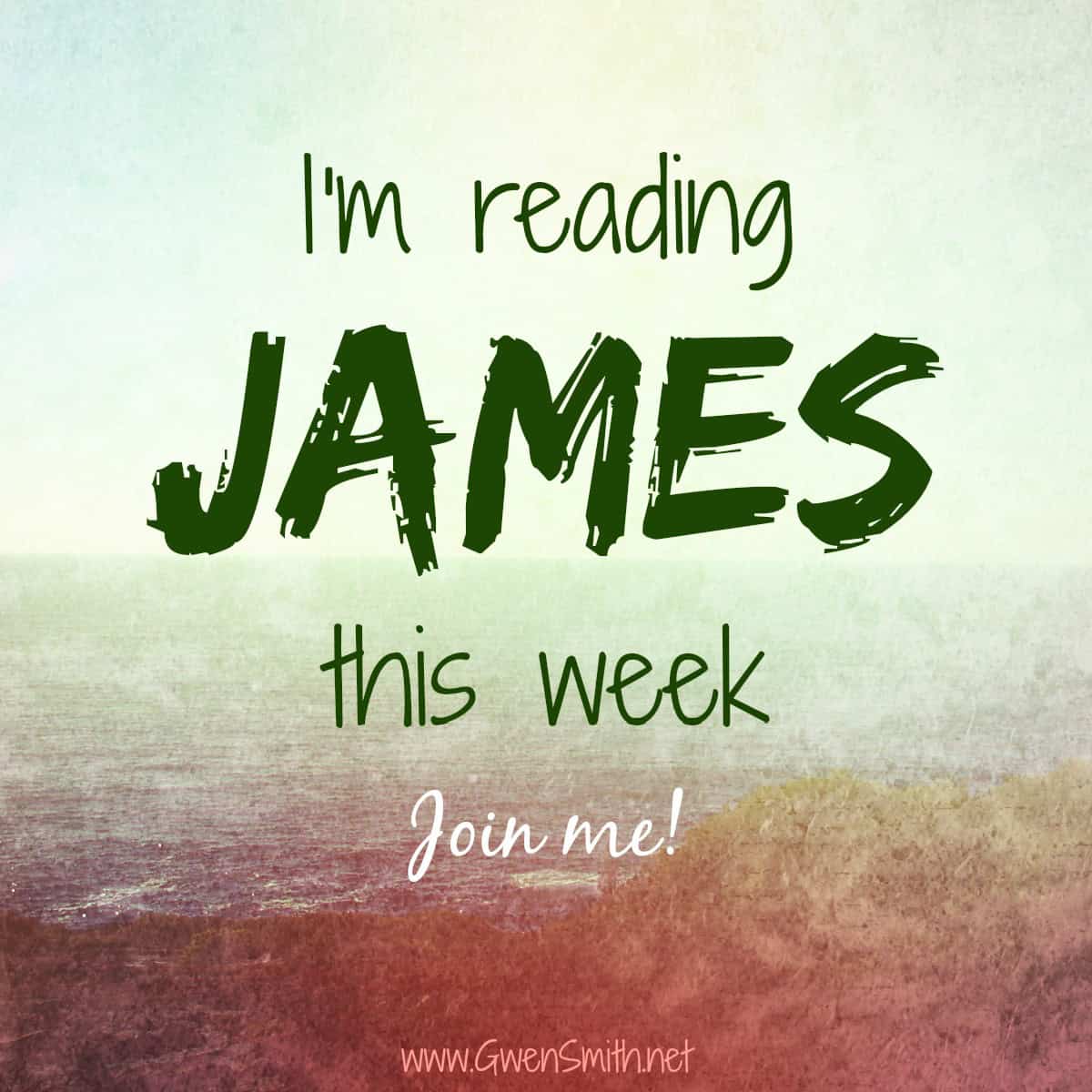 Hey friends,
I thought it would be fun to read the book of JAMES together this week. (James is found in the New Testament portion of the Bible). We can discuss the verses that move us most and the lessons that God is challenging us with in His Word in the comments section below. I'm so excited! I can't wait to hear and experience how the LORD moves our hearts!
Let's get started…
CHAPTER ONE
READ: Read James 1

REFLECT: Pause to consider how this passage should affect the way you believe and behave. Pray. Journal. Worship.
RESPOND by leaving a comment below. Say, "I'm in for the challenge!" Then, feel free to post your favorite verse or share how today's reading spoke to your heart and spurred you on toward Christ. (I love, love, love to hear from you guys!)
MY THOUGHTS on JAMES ONE:
Good gracious, I just love this book! I don't know about you, but I underlined half of the first chapter. Clearly the author of this book (James – the brother of Jesus) wants us to embrace all that life throws at us and put some walk on our talk. Such a street-level challenge.
Verse 2 sure isn't warm and cuddly. It rubs raw… "Consider it pure joy, my brothers and sisters, whenever you face trials of many kinds…" (James 1:2) SILVER LINING: The tension of our trials give way to the release of  rewards. Surely there is something to be said for gaining perseverance and maturity. We might struggle to see the blessings of our hard times, but the Lord calls us to trust Him and assures us that blessings await the one who perseveres (v12), "Blessed is the one who perseveres under trial because, having stood the test, that person will receive the crown of life that the Lord has promised to those who love him."
Questions: What trial in your life is the LORD longing to use for good? Are you willing to release your disappointment, frustration and/or anger to HIM so that you can experience HIS strength in your struggle?
His WORD is His promise. Trust Him. Enough said.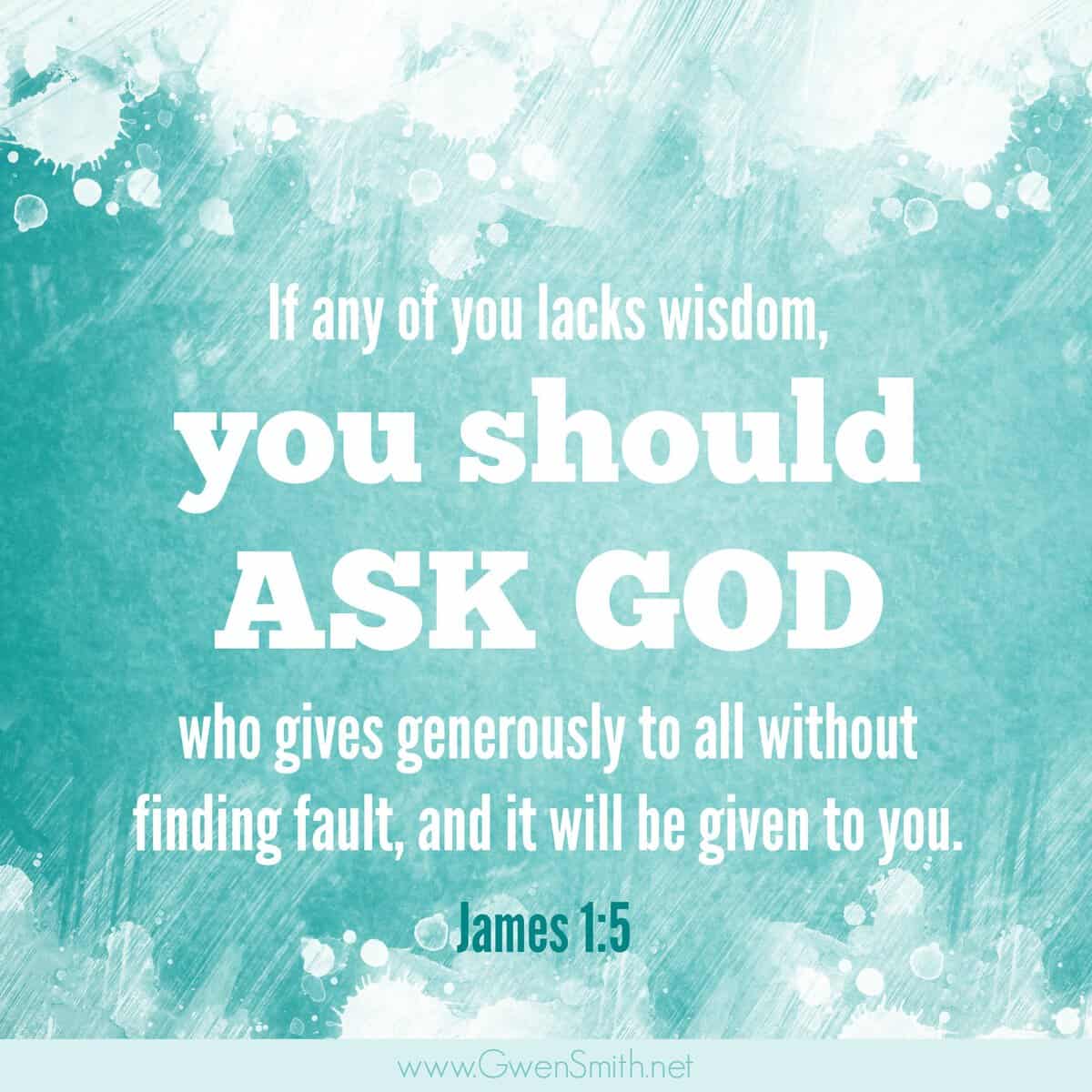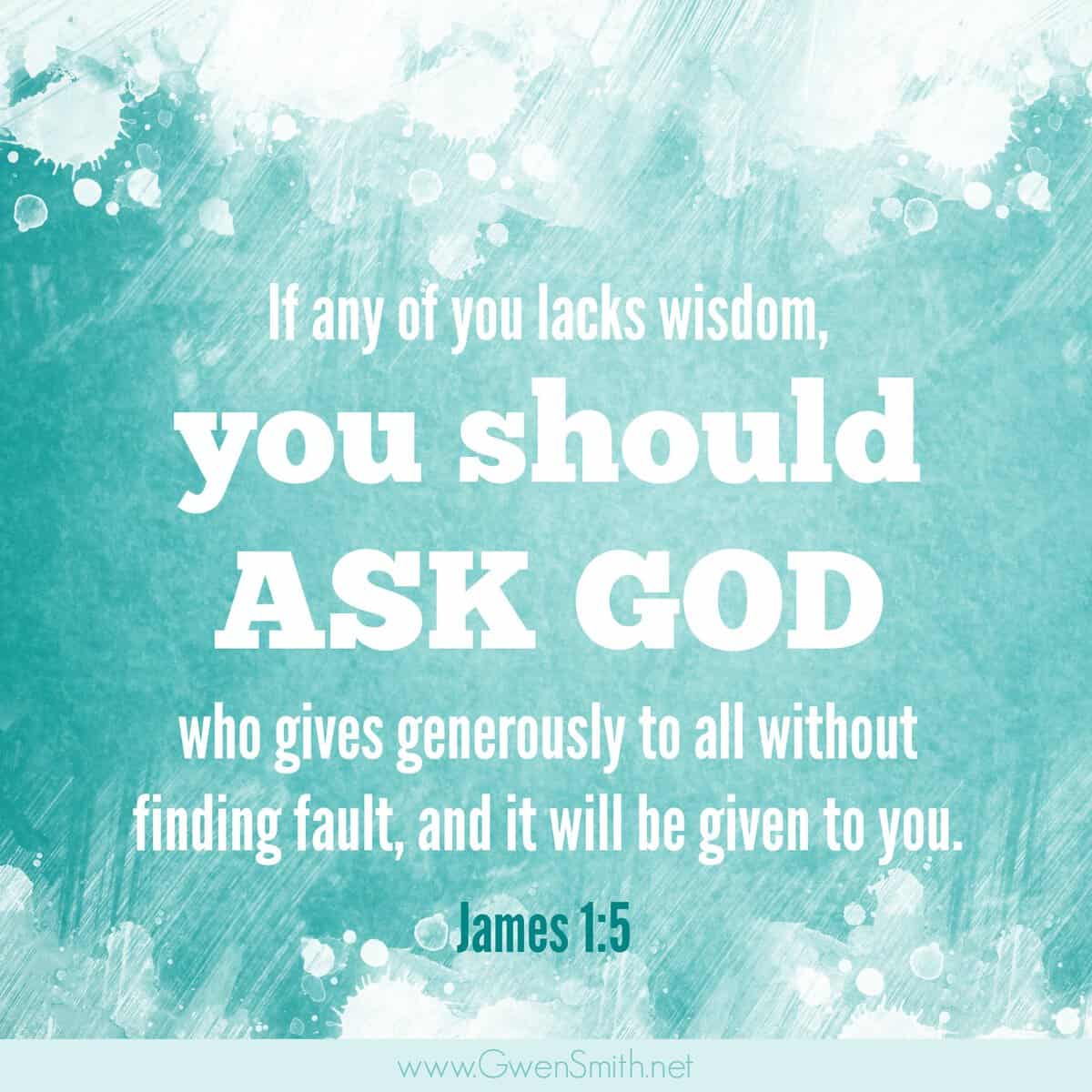 OTHER CHAPTER ONE TAKEAWAYS:
God gives us wisdom when we ask. (V5) So grateful for this!!
We must believe and not doubt in order to receive from God. (V6) Faith is not always my natural response. I must choose to believe and trust God.
Those with little should be glad that riches mean nothing to God. Those with much should also be glad because money/stuff/influence/status can so easily come and go – and God is God either way. (V9-11) In times of little and in times of strain, we are often more in tune with our need for God. And living in awareness of our need for Him and in dependence of His intervention, provision, and strength brings blessings beyond earthly comforts.  
God never tempts us. (V13) He allows us to endure temptation, but is never the source!
Every good and perfect gift is from God. (V17) My days should be filled with gratitude.
Our faith should match our actions. (V19-27) Live His love.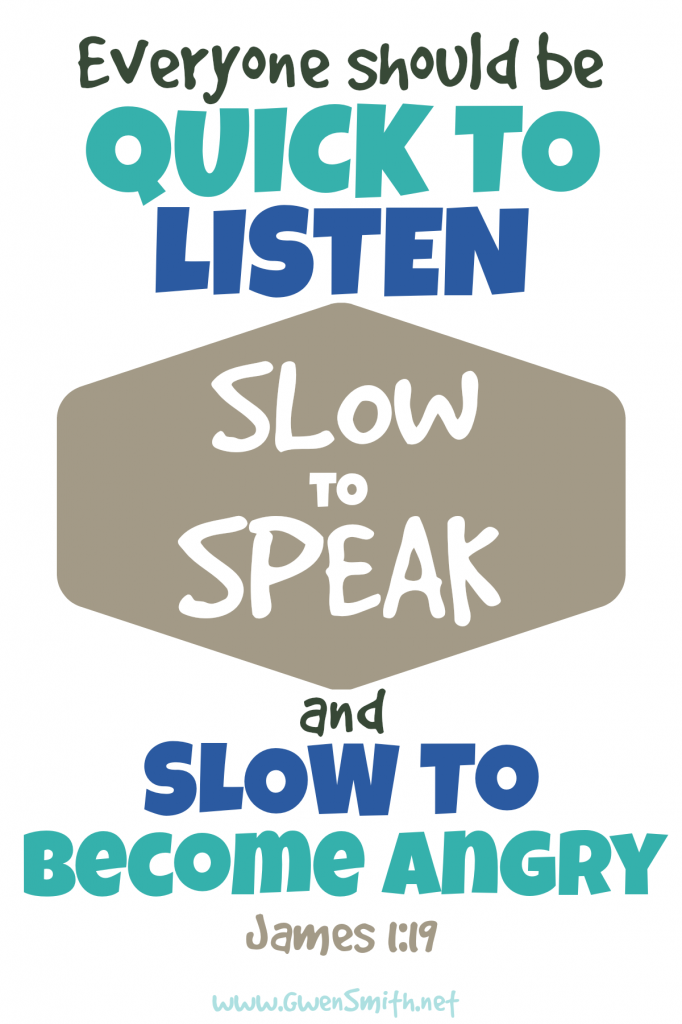 PRAYER OF RESPONSE: Lord, Thank You for the truth of Your Word. Help me to connect my living – my actions and my reactions – to Your ways. Please rescue me in the times that I allow trials to defeat me! This chapter reminds me that your plan is to bring gain from my pain, so I thank you for the tough things I am going through today. Button my lips, Lord, when I don't need to speak or don't have a kind word to say. Help me to listen more and talk less so that Your love can be seen and heard more in my life. When I'm tempted, please help me to resist. Finally, Lord, empower me through your Holy Spirit to live in a way that is beyond stale religion – in a way that is beyond me, myself and I – in a way that looks for and cares for the needs of others in Your grace and for Your glory. In Jesus' name, amen. 
WORSHIP RESPONSE:
Thanks for doing life with me! Can't wait to hear how the LORD moves in you through this challenge.
Warmly in Christ,
Gwen
PS: If you enjoyed this challenge, let's keep in touch! Subscribe to my newsletter. Big Bonus: when you subscribe to the newsletter, you will receive a free song download of a my song Quiet Me ! How fun is that?
PSS: The graphics in each challenge post are PINNABLE! Share the challenge on your Pinterest Board simply by hovering over one of the graphics and clicking PIN IT. Easy peasy! 🙂
PSSS: Got TWITTER? Tweet out what moves you during the challenge and use the hashtag #jameschallenge (I tweet at @GwenSmithMusic)