Today is DAY 2 of our James Word Challenge! I hope you are loving this time in Scripture as much as I am.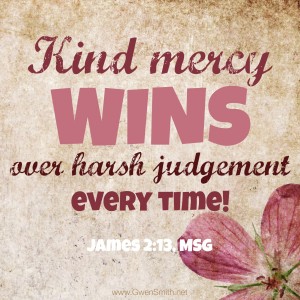 Once again, let's discuss the verses that move us most and the lessons that God is challenging us with in His Word in the comments section below. Are you ready?
CHAPTER TWO
READ: Read James 2

REFLECT: Pause to consider how this passage should affect the way you believe and behave. Pray. Journal. Worship.
RESPOND: by leaving a comment below. Say, "James Rocks!"  just for fun – then,  post your favorite verse or share how today's reading spoke to your heart and spurred you on toward Christ. Respond to one another with encouragement. C'mon, friends! Have some fun down there!
MY THOUGHTS on JAMES TWO:
The two major themes are convicting and compelling: favoritism and faith that works.
DON'T SHOW FAVORITISM (v1-13)… In a world that is smitten with fame and fortune, it has become such a natural (and completely sinful) response to pay special attention to those in the limelight and to people of power, beauty and means. What an ugly reality. God's ways are so much deeper and wider with love.
Mercy triumphs over judgement! (v13) Yes and amen. Great reminder!
A friend of mine recently told me about her elderly daddy. She said, "Every time I've ever seen my daddy, he asks me the same question, "Sweetheart, what have you done today to make someone else's life better?"
Such a great question.
FAITH MUST WORK (v14-26)… Although we certainly do not earn salvation through good deeds, true faith is accompanied by actions. Walk the walk. Talk the talk. Classic and basic Christian stuff… BUT may the familiar nature of the concept never cause us to tune out this compassionate call to live God's love!
Though this chapter is not overly complicated in content, it is chock full of challenge, isn't it? I'm freshly reminded that we are to treat everyone with dignity, no matter who they are or what their status.
PRAYER of RESPONSE: Lord, You are perfectly loving and all-giving. I fall so short of Your standard! Please forgive me!  Help me to look at others and see who you see. Help me to respond others with dignity, honor, kindness and love as you do, regardless of their position or economic status. When I am judgmental, bring conviction and correction to my heart. Purify me in Your grace that sees beyond any external package. Make me more like You! Father, I also ask that You would open my eyes each day to see opportunities where my faith can become action. Show me, Lord, where I can be more effective for you… through service to others, through words spoken, through words left unspoken, through implementing spiritual disciplines – like prayer, Bible reading and fasting – that help me to know you and your Word more intimately. Make me more like You! Help me live Your love. In Jesus' name, amen.
WORSHIP RESPONSE: Click on the song and allow the song to lead you in continued response…
Thanks for doing life with me! Can't wait to hear how the LORD moves in you through this challenge.
Warmly in Christ,
Gwen
PS: If you enjoyed this challenge, let's keep in touch! Subscribe to my newsletter. Big Bonus: when you subscribe to the newsletter, you will receive a free song download of a my song Quiet Me ! How fun is that?
PSS: The graphics in each challenge post are PINNABLE! Share the challenge on your Pinterest Board simply by hovering over one of the graphics and clicking PIN IT. Easy peasy! 

PSSS: Got TWITTER? Tweet out what moves you during the challenge and use the hashtag#jameschallenge (I tweet at @GwenSmithMusic)