When my husband was diagnosed with cancer back in 2014, our family got an up close and personal lesson on faith. Now that my mom is battling pancreatic cancer, the faith lessons continue. Trials can lead us to a greater dependency on God and a deeper trust in His sovereignty if we let them. I've learned that in every situation I have a choice: I can pout, or I can praise.
I can turn away from God because I don't understand, or I can turn toward God trusting that His understanding is enough for the both of us – even if it hurts – even if fear lingers – even if doubt looms.
Have you been to these crossroads?
God shows us a powerful example of praise-over-pout behavior in chapter sixteen of the book of Acts. During the Apostle Paul's second missionary journey, he and his ministry buddy Silas encountered a collision of faith and trouble while in Philippi.
After Paul cast out a demon that was terrorizing a young slave girl, he and Silas were seized by disgruntled Roman citizens and dragged to the marketplace before the rulers. They were then wrongfully accused of public disruption. And later stripped, beaten, and unlawfully jailed without a trial. After the flogging, Paul and Silas were taken to the inner cell of the prison, normally reserved for the most dangerous offenders, and their feet were placed in stocks.
Though they had every reason to sit and stew because of the injustice of their situation, Paul and Silas chose to trust in God's plan and praise their Lord, Jesus Christ. Though they had open wounds and would likely have been in severe physical pain, Paul and Silas chose to glorify the name of God.
"After they had been severely flogged, they were thrown into prison, and the jailer was commanded to guard them carefully. When he received these orders, he put them in the inner cell and fastened their feet in the stocks. About midnight Paul and Silas were praying and singing hymns to God, and the other prisoners were listening to them" (Acts 16: 23-25).
Then God shook the foundations of the prison and loosed the chains of the prisoners. In horror, knowing he would be held responsible for the escape of the prisoners, the jailer raised his sword to kill himself – but Paul stopped him. He and Silas hadn't fled. They stood amidst their dark circumstances and spoke and sang with confidence in their God.
As a result, several people, including the jailer and his family, came to believe in Jesus Christ.
"The jailer called for lights, rushed in and fell trembling before Paul and Silas. He then brought them out and asked, "Sirs, what must I do to be saved?"
They replied, "Believe in the Lord Jesus, and you will be saved—you and your household." Then they spoke the word of the Lord to him and to all the others in his house. At that hour of the night the jailer took them and washed their wounds; then immediately he and all of his household were baptized. The jailer brought them into his house and set a meal before them; he was filled with joy because he had come to believe in God—he and his whole household" (Acts 16:29-34).
Though we won't always rejoice in our circumstances, we are commanded to always rejoice in the Lord.
"Rejoice in the Lord always. I will say it again: Rejoice! Do not be anxious about anything, but in every situation, by prayer and petition, with thanksgiving, present your requests to God. And the peace of God, which transcends all understanding, will guard your hearts and your minds in Christ Jesus" (Philippians 4:4, 6-7).
When we praise the Lord through, and in spite of, what we face our praise becomes our deliverance through the trial. Praise leads us to peace.
"We also have joy with our troubles, because we know that these troubles produce patience. And patience produces character, and character produces hope. And this hope will never disappoint us" (Romans 5:3-5a).
This world is broken, and hardship is unavoidable. But no matter what difficult times we encounter, God is worthy of our praise.
When we choose to praise instead of pout, we choose to trust God.
When we choose to trust God rather than grow terrified in the trial, the wounded world around us lifts their eyebrows in wonder – just like the Roman jailer.
My husband is completely healed and doing great. My mom is in the midst of a treacherous battle. I'm praying that our praising will turn a few eyes toward the Healer.
Yes. Trials will continue to come. Yes. Sometimes a sacrifice of praise is required. You and I get to choose whether or not we will offer it. Let's choose to trust God with everything and everyone today.
Dear Lord,
Thank You for being trustworthy and praiseworthy! Help me trust You each time I approach crossroads of faith and trouble. In spite of the burdens on my heart and challenges in my path right now, I choose to praise Your name and celebrate that Your hope will never disappoint.
In Jesus' Name, Amen.
FOR YOUR REFLECTION and RESPONSE
What or who do you need to trust God with today? Will you? What would trusting God look like for you?
Talk to Him. Worship. Be still and know that He is God – that He is with you – that He cares and sees.
Thanks for doing life with me, blog Fam!
GWEN
PERSONAL UPDATE: In early June, my mom (MaryLou Eisaman) was diagnosed with Pancreatic Cancer. She underwent an intense Whipple Surgery on June 12th and began aggressive chemo two weeks ago. Her weight is low and her appetite is non-existent (due to nausea from chemo and continued internal healing from the surgery). She's obviously in for the fight of her life as she undergoes chemo treatments for the next 6 months in the hopes of kicking cancer to the curb. Unfortunately, her MRI on Monday revealed several spots on her liver. Not the outcome we were wanting. Yet in the thick of it all, we are choosing to trust that JESUS, who holds all things in heaven and on earth together, will hold her (and all of us) together with the gravity of His grace. Would you please continue join my family and me in prayer for my mom?
PS. Once again, if you'd like to post a prayer or note of encouragement for my mom on the wall of my blog, I will share them with her again!! (Last week was bananas! Hundreds and hundreds of prayers! She was blown away!)
PSS. Love you. Mean it.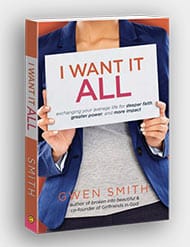 There are endless opportunities for us to worry, wander, and wonder. But that's not God's best for us. Though we remain broken and impacted by an imperfect world, you can get through anything in the power and hope of Jesus. That's the message of I Want It ALL. Order yours today from Amazon or get a signed copy when you order from Gwen's website.