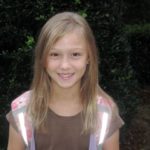 My daughter Kennedy was ten at the time. On this particular day, she was home from school because she wasn't feeling well. Tummy yuckies. I asked her to spend some time with this Lord that morning and to be creative today instead of sitting watching TV the whole time. She came and told me that she sat down to write a story, but couldn't think of anything. Instead, she wrote this (see below). She wrote a devotion. Actually, I believe the LORD wrote a devotion through my ten year old baby girl. All PRAISES to HIM – but I believe this is a TODAY word for each of us. Prepare to be spurred on. This is what Kennedy wrote:
---
Thankfulness
by Kennedy Smith, age 10
Have you ever thought your life was going to end? That the world wasn't spinning anymore and nothing can get worse? Well you don't have to feel that way because every day, all day, there is a God that loves you so much! If you're going through those tough times just think the God Almighty loves you, listens to you and is with you every day all day too.
Have you ever felt that you haven't gotten enough sleep and are stressed with your job? Well everyone should know that the Lord Almighty understands you and your pain and is there with you every step of the way.
Have you ever felt like no one knows you're there and that you're invisible? Well you should know that there is a wonderful, magnificent God out there that sees you every step of the way – that knows every breath you take. There is a God who sees you all the time.
Have you ever felt like no one can hear you and you're being ignored? Well you should know that there is an amazing Lord that hears everything you say and everything you think. This is everything we should be thankful for.
---
From Gwen:
Is your heart swelling in response to HIS presence as mine is? Consider this to be a personal reminder – a personal message from God to you. It is clearly from HIS heart. Now – I think I need to take my shoes off. This is holy ground…