Happy Tuesday, friends!!
Last week I announced that one of my new bloggy missions is to let you know when I come across new books, CDs, or products that I believe will bless and encourage you toward Christ. Today's feature is a book and message that is both challenging and COMPELLING! It's called The Fifth Gospel and it's written by Bobby Conway (with Jeff Kinley). This book would be great for personal reading, a small group, a book study, or for a sunday school class.
Normally, I focus on topics a bit more in the "women's interest" genre. Today, however, this book feature is gender neutral… written not for men or women, but simply for the believing Christian. It is a call to action – a call to live out our faith so that others see Christ in us. A call to action that I surely need – and, I suspect, one that you probably need too. (You're welcome. Winks.)
BOOK SCOOP: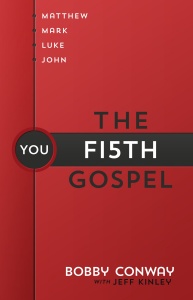 Most Christians are familiar with the Gospels—Matthew, Mark, Luke and John. But do you know that there is actually a fifth gospel? Pastor and author Bobby Conway (@TheBobbyConway) says that the fifth gospel is YOU.
"Many of today's Christ followers are either riddled with guilt for not preaching the Gospel or so silent that no one really knows they're a Christian," says Conway, author of the new book, The Fifth Gospel. "And the vast majority of us don't have a clue about communicating our faith and translating it through a lifestyle that actually makes sense to the average person."
Conway believes that Christians are one of the greatest convincers or de-convincers of Christianity. He argues that Christians need to go beyond reading the Gospels, and begin to actually live them out.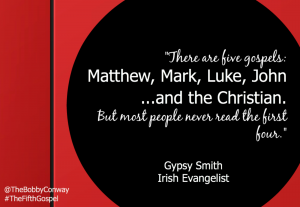 "From the very beginning, Jesus intended His truth and character to be revealed, not only through the printed page, but in the lives of His followers," says Conway. "God wants Christians to live the word and share the word. To show and tell what they have seen and heard. To simply live a good Christian life isn't enough. By living out the Gospel, we gain credibility. By verbalizing the Gospel, we gain clarity."
STRAIGHT UP? I believe that we all need to hear this fifth gospel message and I believe in Bobby Conway. My husband and I have known him personally for ten years. We can testify that he is a man of integrity… a man of passion for the truth… a man of God. He's my pastor and my friend. And it's my joy to be able to share this book with you!
HOORAY! HOORAY! It's a GIVEAWAY!!!
I'm giving away a copy of Bobby Conway's new book , The Fifth Gospel, and it could be yours!
To qualify for the drawing, you need to do TWO things:
#1. ANSWER THIS QUESTION: What is ONE THING you could do today to be a fifth gospel Christian? You can leave a comment by CLICKING HERE.
#2. SHARE THIS POST by using one of the social media buttons below.
That's it! Super Simple! Once you do both, your name will be entered into the random drawing. Be sure to tell your friends so they can sign up too. This is great stuff!!
UPDATE:  A winner has been chosen – Congratulations to Melanie Gail Devito     YEA!!!!!!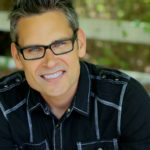 BOBBY CONWAY is lead pastor of Life Fellowship Church (@lifecharlotte) near Charlotte, NC. He's a graduate of Dallas Theological Seminary (ThM) and Southern Evangelical Seminary (DMin), and is the author of Hell, Rob Bell, and What Happens When People Die?. Bobby is also the founder and host of the One-Minute Apologist. In addition, he and his wife, Heather, serve on the Family Life "Weekend to Remember" marriage conference speaking team.