Happy Friday, Everybody! Today's Guest Post and Giveaway is great. I'm excited to introduce you to Sarah Mackenzie.
Enjoy this excerpt from The Read-Aloud Family and be sure to leave a comment so you qualify for the giveaway!!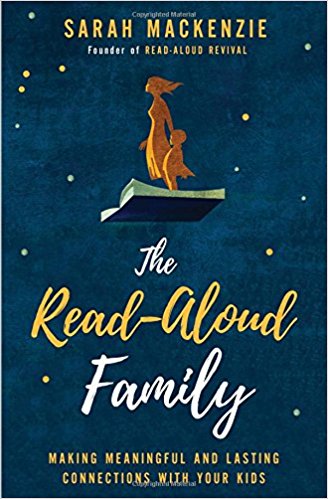 I've known about the Sudan water crisis for as long as I can remember. I've watched news blurbs on TV and skimmed articles in the newspaper about how entire villages in Africa struggle to obtain clean water for their families. It makes me so sad, striking me with a sudden sense of despair at the overwhelming problems of the world. So much hurt. So much suffering.
Even so, I was sucker-punched last year when I read Linda Sue Park's A Long Walk to Water, a middle-grade novel that tells the story of two Sudanese eleven-year-olds. Half of the book is set in 1985 and based on the true story of Salva, one of the lost boys of Sudan, who crossed the entire African continent by foot in search of safety. The other half tells the story of Nya, a fictional present-day girl who spends eight hours each and every day trudging through the dusty heat, thorns puncturing her feet, sun beating relentlessly on her back, as she sets out to gather two jugs of water for her family.
Every day. Two jugs.
It's a fast read, and I devoured it in two afternoons. I read while watching my small kids play in our backyard sandbox, and every few pages I'd find myself staring at my three small children—my twin boys and my little girl. My own pair of Salvas, my own little Nya. I wondered about the children in the book, considered the magnitude of the trials they faced. How did they bear it? What must it do to the human spirit to carry such a crushing load? How on earth do others like them survive such a life?
I paused from my reading and watched one of the twins pour water through a funnel, creating a rivulet on the left side of the sandbox. His eyes gleamed at his creation as his hands playfully scattered sand in piles around the banks of his new little handmade river. Water running in such abundance.
I finished the book, got up, and called over my shoulder that I was heading inside to make dinner.
As I set the book down on the kitchen counter and stared at it, I thought of Uncle's words to Salva: "One step at a time . . . one day at a time. Just today—just this day to get through."
Silently, I filled a saucepan with water, flipped on the burner, measured rice. I grabbed a large bag of carrots from the fridge, placed them on the cutting board, and stared out the window, mulling over what I'd just read.
Crocodile attacks. Violence. Hunger. Loneliness.
Hope.
The book filled me with sorrow and, at some points, fear—but it also filled me with hope. Triumph, even. It left me with the satisfying knowledge that good always triumphs over evil, even when it's hard to see. That the human spirit can be bent but not completely broken—that the hardships lived out by Salva in 1985 could indeed be redeemed.
I didn't hear Andy come in from work. Didn't notice he was there, in fact, until he dropped a kiss on my cheek and nudged me out of the way so he could wash his hands in the sink.
"Gee, what's up with you?" he asked as he picked up the knife and took over chopping vegetables.
I couldn't answer. For the life of me, I couldn't find the words. I wiped a tear from the corner of my eye, felt my throat constrict, and weakly pointed to the book sitting on the edge of the counter in our suburban American home.
The book had altered me. One step at a time . . . one day at a time . . .
A book can reach us where a news report cannot. It's not when we hear a summary on the news of what's happening in the Middle East that our heart catches fire. It's when we hear the story of one person—one man, one woman, one child. It's when we dig out the thorn in Nya's foot, journey with her for hours in the stifling African sun, experience her loneliness and her fear. It is then that we feel the human-to-human connection. That's when our empathy is stirred. That's when we feel fully human.
We slip on someone else's shoes for a few minutes or 121 pages, and our spirits are moved. We are never quite the same again.
That is the power of story.
Story awakens us to the beauty and the bedlam of the world around us. It arouses within us a desire for mercy and justice and truth. Story makes us fall a little more in love with the world we live in and the people God made to live here with us.
In her book For the Children's Sake, Susan Schaeffer Macaulay tells us that, "In literature, perhaps more than through any other art form, we are able to get into another man's shoes." It's so easy for us to cast judgment on others as we read history textbooks, skim Facebook status updates, or scan news blurbs. We are bombarded with messages all day, so it's no wonder we begin to tune them out. No wonder we find ourselves desensitized, numb, choosing to avoid the gaze of the panhandler we skirt around whenever we're downtown.
The antidote to that kind of indifference is to cultivate within ourselves a sincere empathy. To live vicariously through the feelings, thoughts, attitudes, and life experiences of another—someone we would otherwise never get to know. The first step is to walk a mile in someone else's shoes.
That's what transformed me on a late summer afternoon when I finished A Long Walk to Water. It was as if I were trekking through the African desert myself, wondering where I would find safety, longing for just a swallow of cool water. It was only by living vicariously through the story of another—of a completely made up person, in Nya's case—that woke me up to loving the real-life people in the world around me.
Taken from The Read-Aloud Family by Sarah Mackenzie. Copyright © 2018 by Sarah Mackenzie. Used by permission of Zondervan. www.zondervan.com. All rights reserved.
---
Congratulations to our giveaway winners: Faye Annette Johnson-Jones, Ellen & Kathie Monroe!

---

Sarah Mackenzie is the author of the best-selling book, Teaching from Rest: A Homeschooler's Guide to Unshakable Peace and a popular speaker at national conferences. Sarah lives in the Inland Northwest with her husband Andrew, where they homeschool their six kids (including identical twin boys).