Graceologie Episode 160: Christy Nockels
---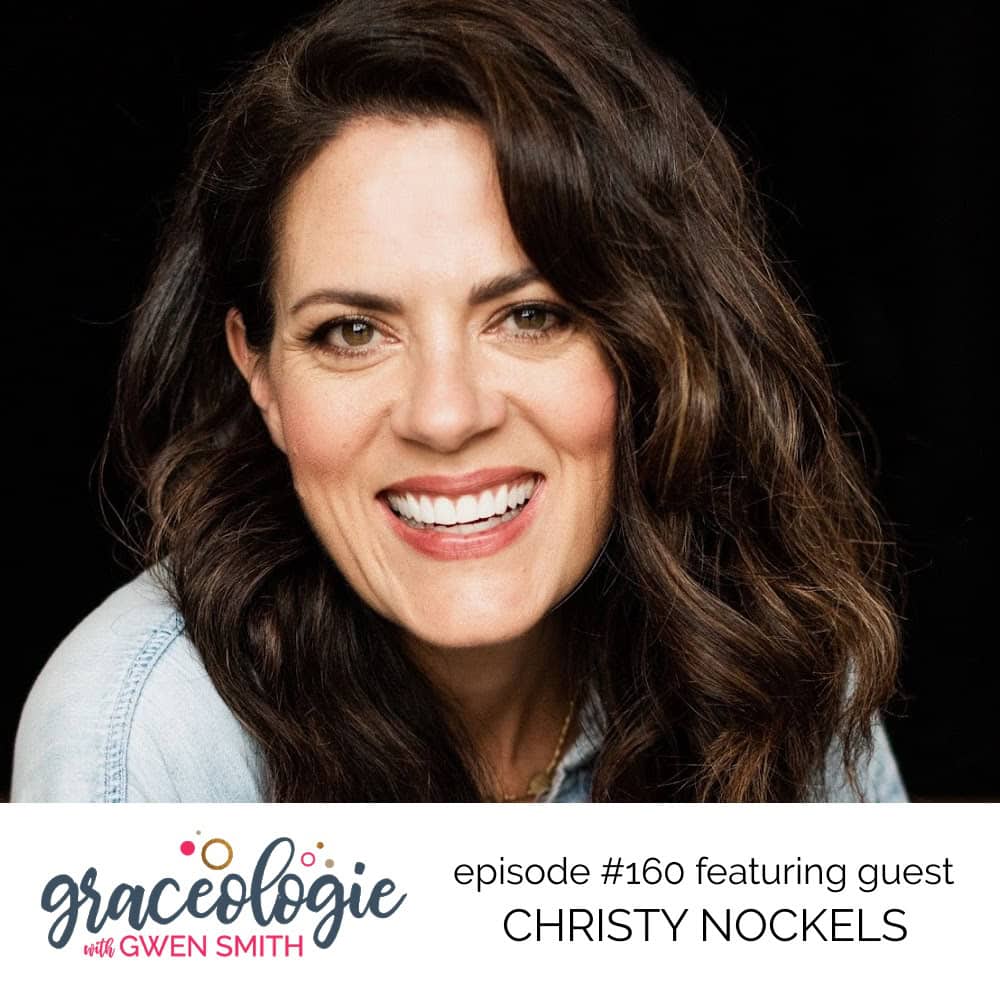 We'd love for you to subscribe on iTunes, and we'd be honored if you'd leave us a review.
OVERVIEW:
Do you ever get swept up in the hustle and grind of life? Does your soul ever get tired and weary? The new Graceologie episode is with singer-songwriter Christy Nockels! (Remember the group Watermark? Yep! Her!) We talk about living from a heart of rest. So good!

QUOTES & NOTES:
Worship leader Christy Nockels wrote her first book, Living the Life You Long For, because she felt the Lord was working on a message for 15 years for her to share; to keep enduring and encouraging people to walk with the Lord in a way that gives you the life you are longing for! 
We have an enemy of our soul that would love nothing more than to get us living from a place of exhaustion and trusting in our own strength and capacity. This is because Satan knows full well what happens when we do live our lives from a place of rest. 
Do you really trust the Lord with your path and your calendar? We've all had to trust the Lord with what our future looks like. 
It's a life long process to trust God. When you're so busy doing all the things you think you're supposed to be doing for God, you really forget to live from Him. God started to show Christy some fruit from all these moments and how he intersected her life. 
Christy was actually cleaning a toilet when she realized that God can meet you anywhere in unexpected ways! She just felt this longing in her heart to "come home" in physical ways (from traveling as a worship leader) but also in a spiritual call to live from God rather than just for him. 
If we're not living from God our ability to live for him has a shelf life because what ends up happening is the enemy wants to exhaust us. We start entering into this life we truly long for when we are living from the love, strength and rest of God. 
Hustling was holding Christy back from experiencing the true identity of being God's beloved and experiencing him. She'd experienced him on the stage but God was saying, "But can you experience me at home in your chair with a cup of coffee and the word open?" God was wanting to bring her back home to what it looks like to be seen and known and loved by him apart from the platform and anything she was trying to build, because he was trying to build her. 
Sometimes when we are exhausted or experience burnout, that is the beginning of God saying that you can't do all of this. We have to admit our weaknesses and tell him we can't do it all. Burnout can be a beautiful beginning. 
Rest can feel counterproductive and counter culture for us to stop and learn to be seen by God and find our worth again in whose we are. 
It's a surrender at first but we can know that God will give back the season he's asked us to lay down. And he'll give it back in such a beautiful way we could ever imagine. He is so faithful to teach us in this time of surrender and bring fruit from it. 
We are living in a time of social media to just scroll through each other's lives looking at what other people are doing and it becomes a false sense of security when we actually have a real community around us that we have avoided. 
We think of capacity in terms of what we need to crank out and what we need to put forth but what we can learn is that the capacity of the beloved is about what we can hold and contain and be filled up with. 
Ephesians 3:16-19 "that according to the riches of his glory he may grant you to be strengthened with power through his Spirit in your inner being, so that Christ may dwell in your hearts through faith—that you, being rooted and grounded in love, may have strength to comprehend with all the saints what is the breadth and length and height and depth, and to know the love of Christ that surpasses knowledge, that you may be filled with all the fullness of God."
"What comes into our minds when we think about God is the most important thing about us."― A.W. Tozer
We need a mind, soul, spirit rest where we posture our heart to trust God. Trusting God equals rest. To look to God is the most vital thing but it's the easiest thing we can do to lift the eyes of our heart to an all-seeing God. 
There is no shame in asking the Lord for more of a desire to want to stop and be in his word. 
How to move from the striving to the savoring?
 Try writing things down. Write down the issue or the problem and write down,"God I trust you with this". 
Before your feet hit the floor or pick up the phone, live from the "bullseye". Go to the bullseye in your mind, which is wrapping your heart around God's love for you and that your identity would be wrapped up in who he is. 
Living life in the spirit like Romans 8 tells us to.
Putting on a new self like Ephesians 4.
Abiding in Christ like John 15.
When you know you are supposed to say no to something, trust God by putting the ball in his court. This is trust you know he is going to come through to you in another way. 
Ephesians 2:10 " For we are God's handiwork, created in Christ Jesus to do good works, which God prepared in advance for us to do."
Even if you are in the beginning of your journey with God, look to 2nd Chronicles 16:9 which says, "For the eyes of the Lord range throughout the earth to strengthen those whose hearts are fully committed to him."