Hello and happy Friday! Today's guest post and giveaway is from my sweet friend KATIE BENNETT, author of the new 90 Day devotional book, Heavenly Minded Mom. While her blog, podcast and new book are all purposed to encourage moms-with-littles to embrace a simpler life and chase hard after Christ, the truth of what she shares below is relevant for every one of us.
A few years back God placed a burden on Katie's heart that has helped to reshape her thinking. I believe what she wrote in this devotion will help reshape yours. If you let it.
With Mother's Day right around the corner, this little devotional gem would be a great gift to give or get because each post lovingly points readers to what really matters – Jesus. So grab a fresh mug of coffee and enjoy this excerpt by Katie from Heavenly Minded Mom, and be sure to LEAVE A COMMENT to enter!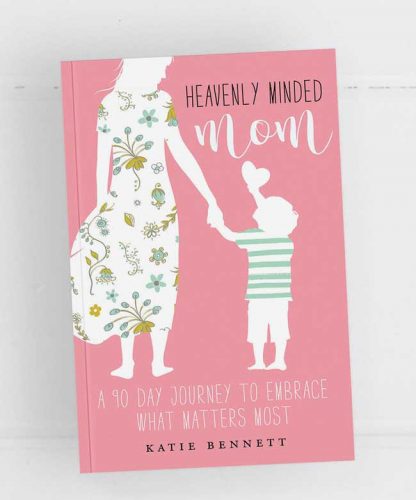 GOD'S PRIORITIES FOR YOU
But just as he who called you is holy, so be holy in all you do; for it is written: "Be holy, because I am holy." —1 Peter 1:15-16
What are God's priorities for you?
Have you ever thought about that?
Are His goals for you characterized by wealth, comfort, and ease?
Is His chief hope that you would have a smooth existence on this earth?
Is that the driving aim behind His work in your life?
No, of course not! God sees a far greater picture than this. He knows that your life is brief and fleeting. He knows that it will pass away in a flicker of time, and [if you trust Jesus] you will reign with Him in eternity forever. His priorities for you are not summed up by a sugar-coated, trial-free existence. Rather, He longs for you to become like Christ. He loves you, and He knows that this is far better for you.
Through very intentional work, God lovingly molds us according to His priorities. From His lofty vantage point, He sees clearly what is needed in our lives, and thus He leads us toward a place of greater maturity, depth, surrender, and dependence as we allow Him. These are the things that hold lasting value. This value utterly eclipses any and all momentary gain we might think we prefer in the present moment.
Because we cannot fully understand the scope of what God is doing in our lives or in the world—in this span of time or throughout eternity—we must trust Him. Rather than consuming our prayer lives with nothing more than requests for safety, blessing, material possessions, and success, may we also learn what it means to pray kingdom-minded prayers. May we align ourselves with the heart of God and choose to see the bigger picture that He sees.
God's priorities for our lives are deeply spiritual and eternal.
Let's stop holding tightly to the things that God does not hold tightly to, and let's stop running after the things that God does not run after.
Let's be holy as He is holy.
Let's strive to be perfect as He is perfect.
Let's be spiritually minded as He is spiritually minded, and let's be wise as He is wise.
---
Congratulations to our giveaway winners- Wendy L & Shelley Morrow!
Katie is giving away TWO copies of her book!
To qualify for the drawing, you need to do ONE simple thing. LEAVE A COMMENT to win by CLICKING HERE.
That's it! Once you leave a comment, your name will be entered into the random drawing. Be sure to tell your friends so they can sign up too. The drawing will take place on Monday, April 23rd, so don't delay! (Contest is limited to US readers only.)
---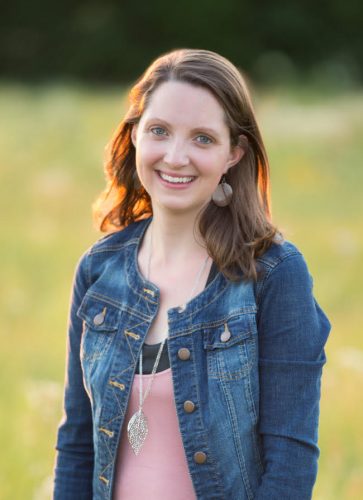 Katie
 Bennett is the author of 
Heavenly Minded Mom
creator of the 
Embracing a Simpler Life
 blog and podcast, where she encourages women stop loving the world and instead follow Jesus with everything they've got. She and her husband Mitch live in a small town in Missouri with their three young children.