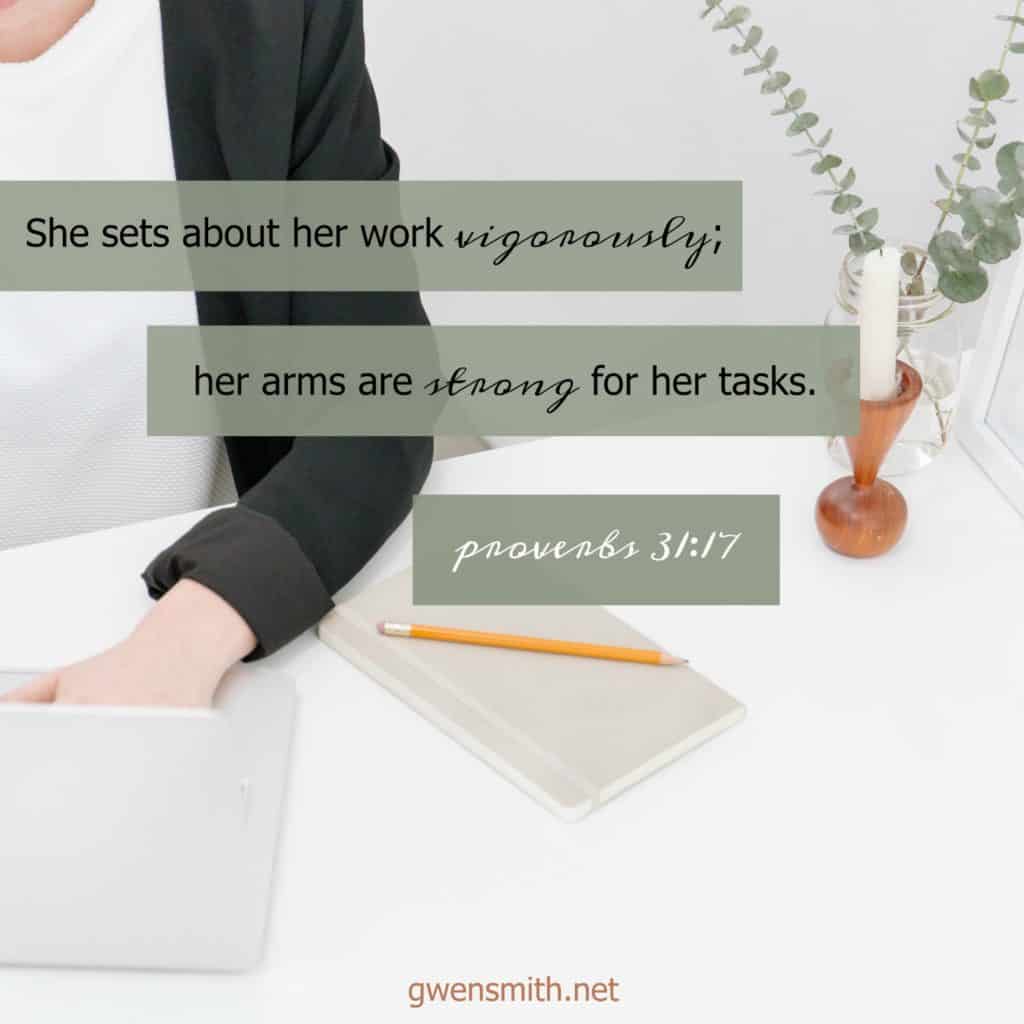 Many of us check off neatly penciled boxes. Some draw lines through the tasks we've finished. A select few of us even add things to our lists after we've done something that wasn't on our list … so we can mark it off! (I may or may not do this…) Some of us keep track in our heads, while others track progress of daily goals on paper, on a computer, or on an app.
At times I fluff my list. Instead of simply writing, "Do three loads of laundry," I'll create twelve list items to check off that read:
Wash whites
Dry whites
Fold/hang whites
Put away whites
Wash colors
Dry colors
Fold/hang colors
Put away colors
Wash darks
Dry darks
Fold/hang darks
Put away darks
I just love to check boxes. I think it's because I sincerely want to be a productive person. I want to feel like I'm accomplishing something. It's pretty much a daily struggle for me. As an optimist, I wake up anticipating that the seconds, minutes, and hours of each day will bend to cooperate with the demands of my list.
And … it never works out that simply or efficiently.
You struggle with this too, right?
Most of us feel frustrated and at times, overwhelmed by the abyss of a rarely satisfied to-do list. It's exhausting. We face constant demands that call to us and vie for our attention. We sift through the essentials and the fire drills, then we go to bed, wake up, and do it all again.
The good news is that we don't need to face our lists alone. God offers to come along side of us daily to provide the strength, perspective, and wisdom we need. He helps us prioritize our days when we turn to Him in prayer. In the Bible, we read of a woman who approached each day with God-power and God-perspective:
"She sets about her work vigorously; her arms are strong for her tasks" (Proverbs 31:17, NIV).
Though this is an impressive statement about her work ethic, and though it seems this fictional woman dominates her daily to-do list, it's important that we consider the source of her strength: God. At the end of the chapter, Scripture shows us that she "…fears the Lord…" (Proverbs 31:30, NIV). This means that she lives in awe of God. That she worships and prioritizes Him above all else. That the source of her strength is rooted in her dependence on and reverence of God.
Ours should be, too.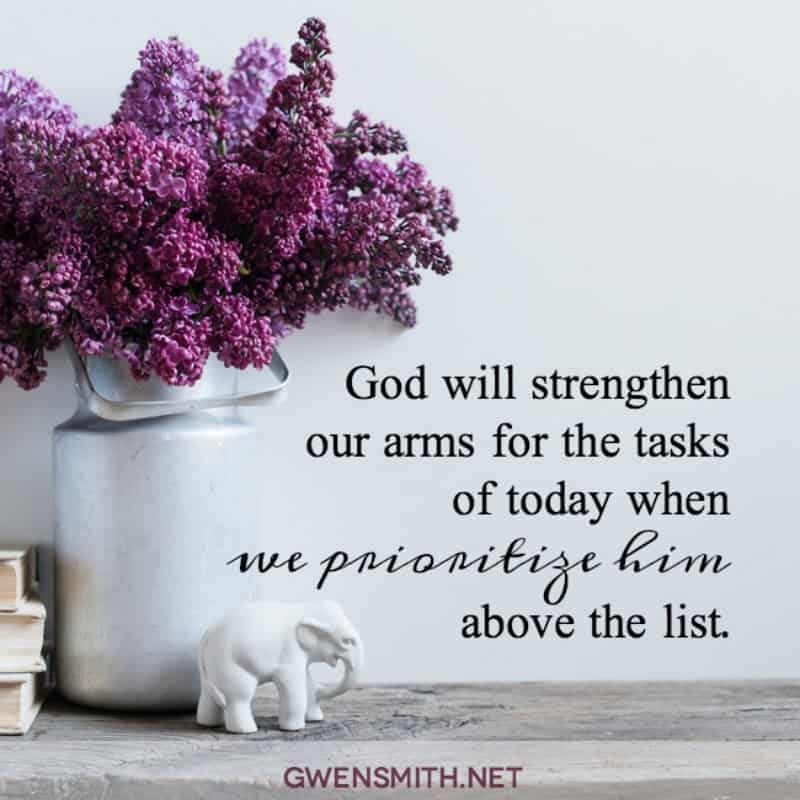 Your list looks different from mine.
We have unique goals, friendships, jobs, responsibilities, and families. Whether you are in the work force, unemployed, or retired … or a stay-at-home mom, a single mom, or an empty nester … a wife, a widow, single, or divorced, God can and will give you the strength and guidance you need when you prioritize and revere Him.
Consider the following verses:
"Are you so foolish? After beginning with the Spirit, are you now trying to attain your goal by human effort?" (Galatians 3:3, NIV)
"Do you not know? Have you not heard? The LORD is the everlasting God, the Creator of the ends of the earth. He will not grow tired or weary, and his understanding no one can fathom. He gives strength to the weary and increases the power of the weak. Even youths grow tired and weary, and young men stumble and fall; but those who hope in the LORD will renew their strength. They will soar on wings like eagles; they will run and not grow weary, they will walk and not be faint." (Isaiah 40:28-31, NIV)
God will strengthen our arms for the tasks of today when we prioritize Him above the list.
Let's go to Him now and ask for direction, wisdom, renewal, and strength.
Dear Lord,
Please forgive me when I rush into a day without calling on You for my strength. I need you, Lord. Please prioritize my heart and my list today.
In Jesus' name, amen.
FOR YOUR REFLECTION and RESPONSE
Read Proverbs 31:25-26: "She is clothed with strength and dignity; she can laugh at the days to come. She speaks with wisdom, and faithful instruction is on her tongue."
How closely do you relate to the above verse? What steps need to be taken in your life to move toward a deeper dependence on God's strength verses your own? Are you willing to go there? Take a moment to talk to God about it.
Would love to hear where you are with this today. As always, my posts are not meant to be a monologue, but a community dialog. Post a comment of response or a PRAYER of response regarding this topic.
LOVE doing life with you, friend.
GWEN