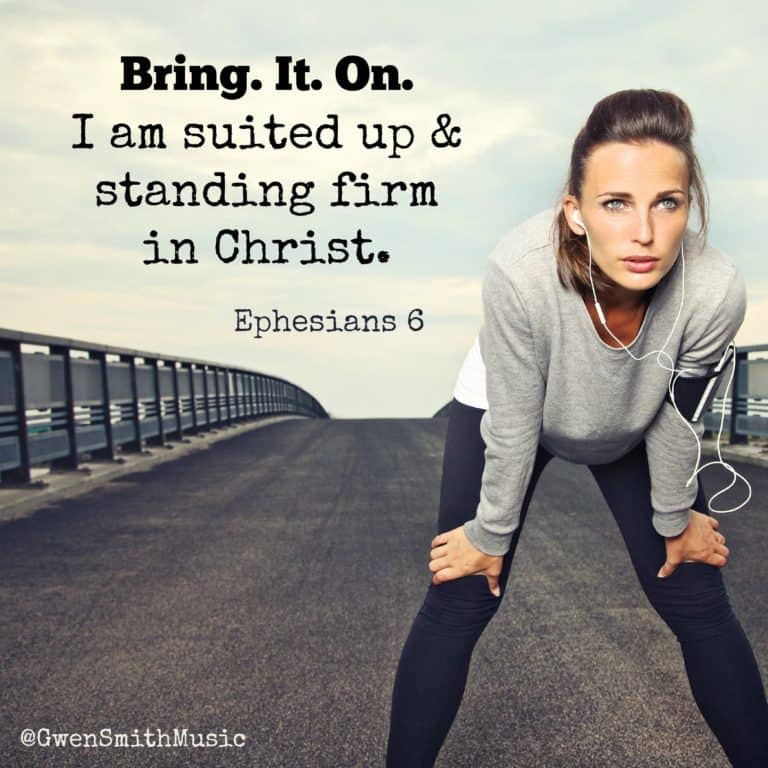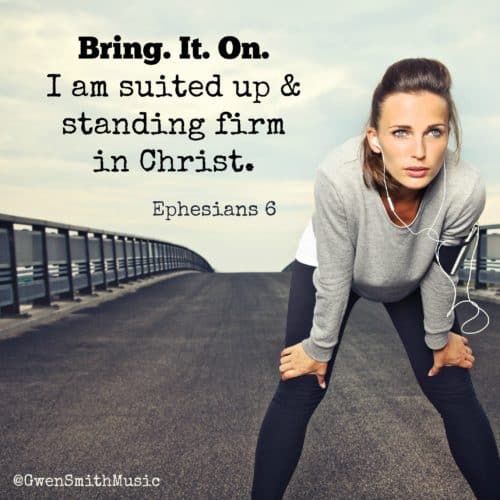 It was the end of the school year.  The sun was blazing in the sweltering high 80s with not a hint of shade to be found on the treeless playground.  The boys were stinky from their sweaty schoolyard endeavors and the girls were now wilted versions of the fresh flowers they had been that morning.  It was almost time for the big wrestling competition.  Electric excitement lingered in the air.  I was a fifth grader at West Hempfield Elementary School in Irwin, Pennsylvania and I had signed up to participate in the wrestling match. What?
To this day, I'm somewhat amused and perplexed that I would've thrown myself into the middle of such a barbaric display.  Wrestling certainly wasn't my sport of choice, or even a faint interest of mine.  So, as we all gathered around the red and white striped gymnasium mats for the annual, end-of-the year wrestling tournament, I was sweating bullets… not just from the relentless, yellow ball of heat in the sky, but also from the nerves that consumed my body.
Before the match even began, I was a captive to the bully in my brain.  What do you think you are doing?  This is ridiculous!  Caroline is not only three inches taller than you, but she's meaner than you, and she's in the sixth grade!  You are going down, Gwen.  Prepare to be humiliated in front of every fourth, fifth and sixth grader in the school.
At the sound of the whistle, the match was on.  Caroline and I danced around like two alley cats with their backs raised high.  She had a confidence in her eye that was foreign to me at that moment.  A series of unskilled and ungraceful moves followed. (Cringe with me here!) She lunged and I retreated.  I lunged and she retreated.  Then came contact.  Within seconds we were on our hands and knees battling for control. Battling for the win.
The sounds of the crowd were deafening as Caroline moved in to get the better of me.  All I could think was, Just DON'T let her get you on your back!  Feelings of hopelessness and desperation flooded my heart as she and I exchanged move for move.  There were several points allotted and several restarts from Mr. Gordon's whistle.  In the midst of this primitive battle, my goal had changed from trying to win to just trying NOT to be pinned…therein lies the defeat.
As the match came to an end and the final whistle blew, it was Caroline's victorious arm that was raised high in the sky.  I was defeated in front of half the school.  Cheers went up for Caroline as I shrunk back into the sea of students, longing for super powers that would render me invisible.  I was exhausted from the match, humiliated from my failure, and defeated by both Caroline and my own mind.
That was a dark day for me as a young girl.  But as dark as that day was emotionally, I was able to clearly see my opponent.  Ladies, when it comes to spiritual wrestling matches, we do not have the advantage of sight.  The Bible says: For our struggle is not against flesh and blood, but against the rulers, against the authorities, against the powers of this dark world and against the spiritual forces of evil in the heavenly realms. (Ephesians 6:12, NIV)
Many of the battles we contend with each day are spiritual.  We can't see our enemy.  And while at first glance this may seem disarming, look again at Ephesians 6.  The Bible clearly tells us that we can be equipped to stand firm with the Armor of God!
Therefore put on the full armor of God, so that when the day of evil comes, you may be able to stand your ground, and after you have done everything, to stand. Stand firm then, with the belt of truth buckled around your waist, with the breastplate of righteousness in place, and with your feet fitted with the readiness that comes from the gospel of peace. In addition to all this, take up the shield of faith, with which you can extinguish all the flaming arrows of the evil one. Take the helmet of salvation and the sword of the Spirit, which is the word of God. And pray in the Spirit on all occasions with all kinds of prayers and requests. With this in mind, be alert and always keep on praying for all the saints. (Ephesians 6:13-18, NIV)
Though the wrestling match with Caroline seemed overwhelmingly daunting, the battles that I face now are so much greater.  I'm thankful that God's word clearly says the victory is ours if we are in Christ. If God is for us, who can be against us? (TWEET this!) 
What are you wrestling with today?  Is the enemy speaking lies to you?  Do you feel weak?  Strength comes when we call on Jesus!  We can stand firm against the schemes of the devil when we put on the armor of God!   Suit up, friend, a battle is going on all around you. Be strong in the Lord and in His mighty power!
Dear Lord, I thank you for being a mighty God who longs to cover my weakness with Your strength.  Please equip me for all that lies ahead today, protect me from attacks and schemes of the enemy, and help me to be strong in Your mighty power.  Cover me with Your peace, truth, faith, and salvation so I can stand firm in the battle. In Jesus's name, amen.
FOR YOUR REFLECTION and RESPONSE: Are you suited up for the battle? Leave a comment that says, "I'm suited up!" or give a one sentence testimony of how God is equipping you for every challenge.
In the old testament, in days of war they often sent the singers in before the battle. Take a moment to listen to the song My Strength, My Song.
Is there someone you know who needs to hear this message? Forward this via email. Post it on your Facebook page. Tweet a link. Share the call to courage.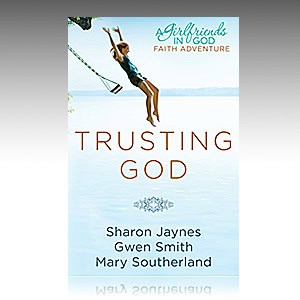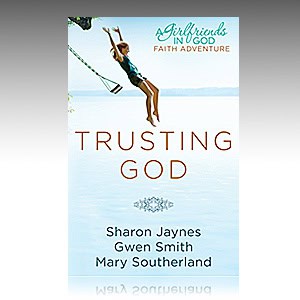 Today's post is an excerpt of TRUSTING GOD.
With impactful devotions, study questions, journal pages, free on-line video intros, and an index of trust-building Scriptures, this book is a resource you'll refer to time-and-time again. To order your copy, click here