Battles are everywhere… in our homes, in our hearts, in our humanity, and in realms unseen.
The Bible actually has a lot to say about this: Our struggle isn't just against flesh and blood, but against the rulers, against the authorities, against the powers of this dark world and the spiritual forces of evil in the heavenly realms. (Ephesians 6:12) No weapons formed against us will prosper. (Isaiah 54:17) Greater is He who is in us than he that is in the world. (1 John 4:4) When we submit to God and resist the devil, he has to flee! (James 4:7) And there's tons more.
Let's be honest, that's a lot to take in. It all sounds so major-motion-picture. So Star Wars! Good versus evil. Light versus Darkness. Luke Skywalker versus Darth Vader. Anakin versus himself.
On the big screen those who fight for good work tirelessly to fend off the attacks of the destructive and devious. They fly around in vehicles that range from sleek Delta-7 Jedi Star Fighters, to agile X-wing Fighters, nimble Speeder Bikes and the massive Millenni- um Falcon… all to take on their havoc-wreaking enemies who conspire and plan bad things on starships like the Death Star, Imperial Star Destroyer and the Star Cruiser. You get the picture.
On the screen of my heart, attacks feel more personal.
David felt this way too. In Psalm 64, he's frustrated with his enemies and goes to battle by taking it up with God. Voicing his complaint about their destructive ways, he begs for good to overcome the evil conspiracy against him.
God, hear my voice when I am in anguish.
Protect my life from the terror of the enemy.
2 Hide me from the scheming of wicked people,
from the mob of evildoers,
3 who sharpen their tongues like swords
and aim bitter words like arrows,
4 shooting from concealed places at the blameless.
They shoot at him suddenly and are not afraid.
(Psalm 64:1-4)
David not only voices his complaints, but he voices his confidence that God will conquer his enemies. He's confident that after God takes control, the people will fear and they will acknowledge who God is. Ultimately, the Bible assures us the righteous will rejoice because the enemy is defeated by the power of our God. #thisishuge
But God will shoot them with arrows;
suddenly, they will be wounded.
8 They will be made to stumble;
their own tongues work against them.
All who see them will shake their heads.
9 Then everyone will fear
and will tell about God's work,
for they will understand what he has done.
10 The righteous one rejoices in the Lord
and takes refuge in him;
all those who are upright in heart
will offer praise.
(Psalm 64:7-10)
Good defeats evil.
GOD WINS.
We're on His side.
He's on ours.
So incredible! No wonder David has such a passion for Praise. When battles are fierce, faith is bolstered in the praising. Let's let worship be our weapon of choice today.
Dear Lord,
Please help me be an effective witness of Your power.
Cover me in Your Spirit today and equip me to fend off attacks from the Enemy.
In Jesus' name, amen.
FOR YOUR REFLECTION and RESPONSE
What's the balance between your complaints and your God-confidence?
With you in the battles,
GWEN 🌸
---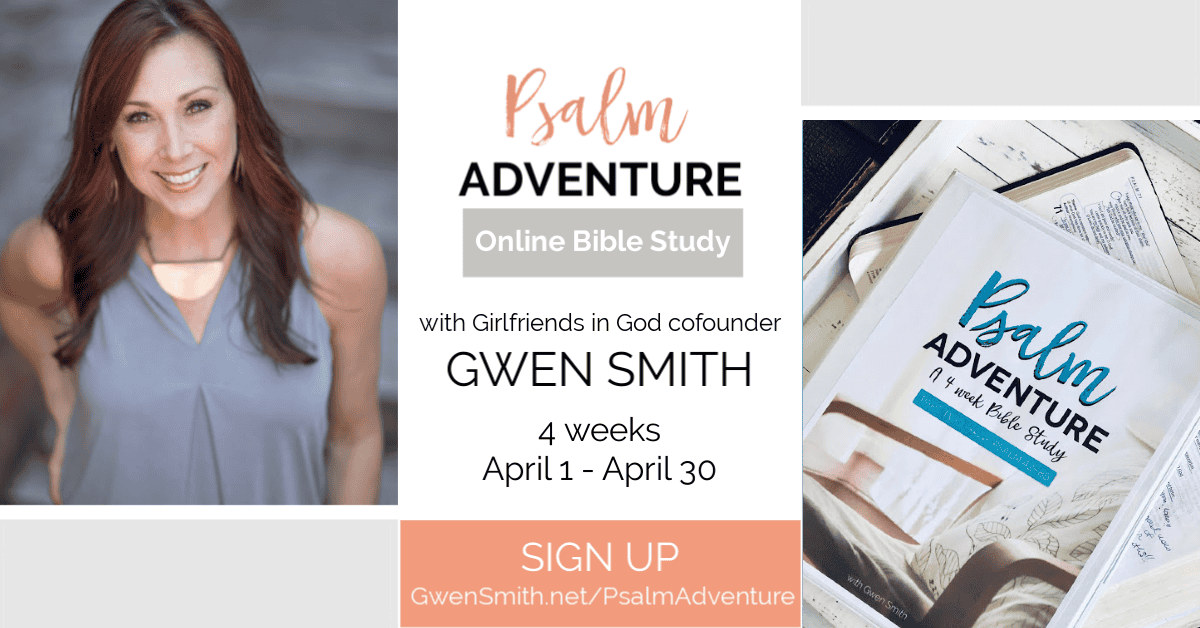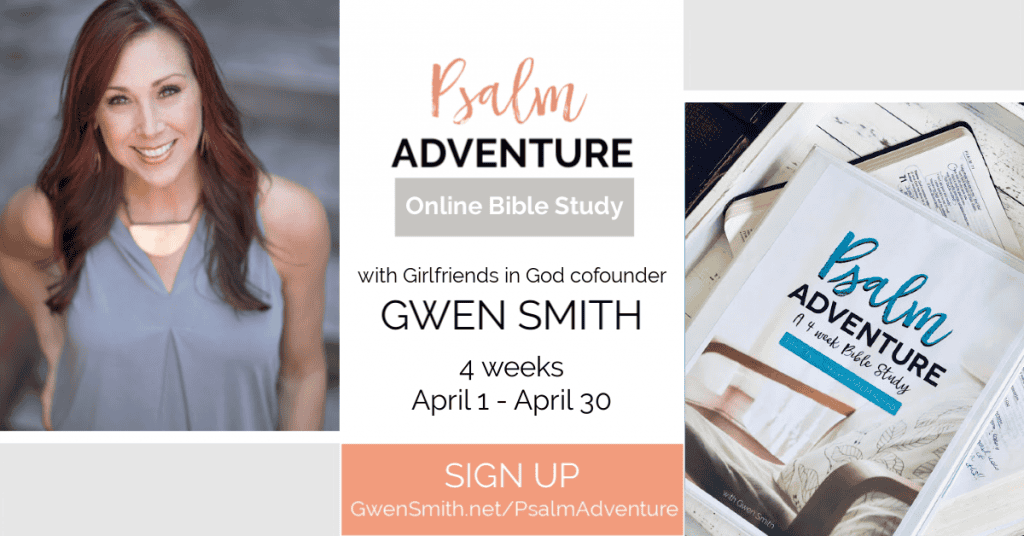 Do you ever get frustrated when you read the Bible because it seems so hard to understand? I do too… and I've created a 5-part online inductive Bible Study called the PSALM ADVENTURE to help make studying the Bible a bit easier.
Join me for a FREE Psalm Adventure! You'll get weekly instructions and videos where you and I hang out, talk about what we've read, seek God's heart together and grow as a GRACEOLOGIE community.  Even if you've never done a Bible Study before in your life, I promise you, this PSALM ADVENTURE is DOABLE and will really help connect your needs to GOD's provision and your questions to GOD's answers.
Consider this your personal invitation! IT'S TIME to gain clarity in the WORD and experience renewed hope, strength and peace in the presence of God.  Click here to REGISTER NOW.
---
🌸 Are you all caught up on the latest GRACEOLOGIE with Gwen Smith Podcast episodes?
If not, NOW is a great time to LISTEN!